GO TO: Part II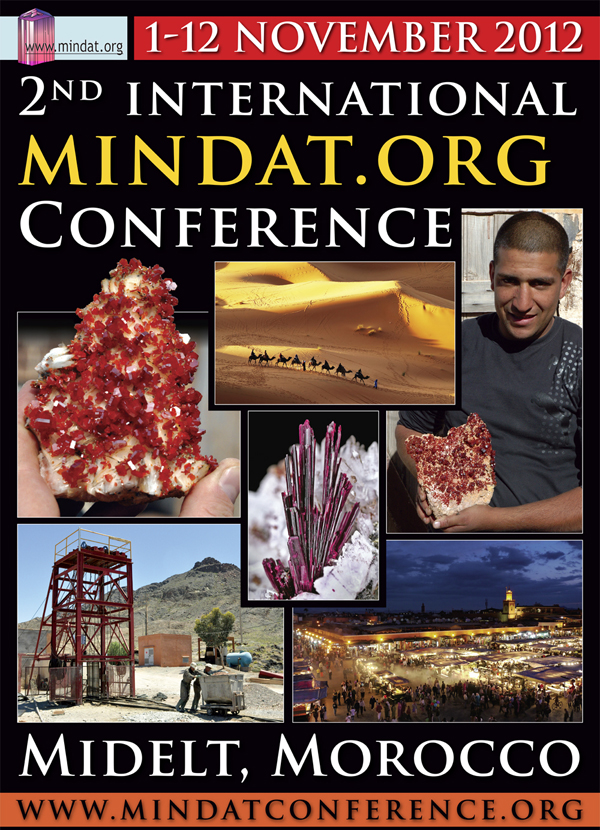 Poster advertising Mindat.org Conference which was distributied worldwide ayear before the event.
Our team organized the Mindat.org conference for the second time. The first one took place in Poland – Lwowek Slaski in 2011. This time we choosed Morocco. There were 120 participants. The whole event took 12 days of field trips, lectures, slideshows and a lot of fun. Below you can read the report and see the photos taken by the attendees of the conference. The report was written from our perspective, which we'd like to show to you. We're going to describe some details that were not visible to everyone during the Conference.

Preparations
All the arrangements started 2 years before the conference. It took several trips to Morocco.
Just before the Conference, we spent one intense week participating in the Munich Mineral Show. Because buying alcohol in Morocco is difficult and very expensive, we took quite a lot of vodka from Poland to Munich, and some of the conference attendees, who also visited the show, helped us with the transport by taking some bottles to their luggage.
On Monday, 29th of October, in the morning, we left our hotel in Munich and took a taxi to the airport to catch our plane to Marrakech. Our main base in Marrakech was Islane hotel situated just in from of the famous Koutoubia Mosque. And then the problems begun :) There were about 120 people participating in the Conference, so we had to book rooms in two hotels in Marrakech - there was none big enough in the city center. We had prepared a list of the rooms, we checked how many beds were in each room and if they were twin or double, so we had everything perfectly fixed for each person. But the hotel staff changed the rooms we had booked, so we had to fix all the lists again …
We spent two busy days in Marrakech, we had to buy some medicines, wine, beer, talk to drivers etc.

Registration
Registration of the attendees started on the 31st of October in the morning. Our team waited for them in the hall of Islane hotel with badges, conference programs and small gifts. People came not only from Marrakech airport, but also from Casablanca. We organized taxies to bring everyone from airports directly to their hotels. In the evening, when most of the attendees had arrived, we all had a dinner together on the panoramic terrace of Islane hotel.

Day 1 – Sidi Rahal and Marrakech
Next day the field trips started. We had a really tough morning – more problems showed up. We were informed that after a few rainy days the road to the quarries in Sidi Rahal was destroyed, our Moroccan friends were trying to fix it with bulldozer.
The next problem we had with the buses. Bus company gave us different mini buses than we ordered with not enough space for everyone... Participants were divided into 9 groups with number of members corresponding to the number of seats in mini buses. So we had to improvise. Luckily, some of the attendees joined the Conference a bit later, so at the beginning we had some more space in the buses.
The road to Sidi Rahal was already fixed so we arrived safely to the quarries. Sidi Rahal is a famous locality where the agates, amethyst geodes with pseudo-stalactites and perimorphs occur in Triassic basalts. We spent some time in the workings collecting, taking photos and trying to talk to the local children. The local inhabitants got very interested seeing such a big group of tourists. After that we visited one of the miners, whose family prepared the typical Moroccan lunch and a micro mineral show for us.
We were back in Marrakech in the late afternoon. Attendees had a while to refresh, and then they were divided into 10 groups and taken by guides for a tour to the famous square Jemaa el-Fnaa and medina – the old town. During the tour participants saw traditional stores, bustling square with conjurers, monkeys, snake-charmers and dancers, later we gathered on the terrace, booked specially for us, which is the best place to admire amazing night views of the illuminated Jemaa el-Fnaa square.
In the evening, the first official Conference dinner and party with traditional Moroccan entertainments started on the terrace of hotel Islane. There were local musicians, belly dancer, snake-charmer, Polish vodka and of course a lot of fun. People had an opportunity to get to know each other, some of them took it seriously and stayed at the party till early morning.

Day 2 – drive through High Atlas
Fortunately after a hard talk with the bus company we got the buses we really booked the next morning.
Early in the morning everyone had to pack their luggage, it was taken by luggage buses - two extra buses we rented to transport all the suitcases and backpacks. They took the luggage directly to the next hotel while we were visiting different localities.
After packing, we left to the south, in the direction of Ouarzazate. We drove through really picturesque route in High Atlas, crossing mountain pass Tizi'n'Tichka. There were several photo stops on the way, with breathtaking views and mountain landscapes.
We stopped for lunch in the Palace of Tichka. Apart from the food there were also women from the collective producing argan oil, invited by us, waiting with their presentation. It was possible to see how argan oil is being produced. Women make it with their own hands and some simple wooden and stone tools, with no electricity, so it's 100% bio and natural. It was also possible to buy some cosmetics made of it.
We arrived to Ouarzazate town in the afternoon. The weather was beautiful, warm and sunny, and there was a plan to make a party by the swimming pool in our hotel, Karam Palace. But (surprise!) apparently we had bad luck because the pool looked definitely not like it was supposed to, with rubble all around it and with no water, totally destroyed. Frankly speaking, we were quite upset about that because we had agreement with the hotel that everything would be ready and prepared for us. Well, it wasn't…
After checking in, buses took people to the old Kasbah Taurirt for the guided visit. Kasbah is an old kind of fortress, it was a place for a local leader to live and defense when city was under attack. After the sightseeing we had a dinner in our hotel restaurant, which wasn't organized as we had fixed before, so we had another hard conversation with the hotel owner. After the dinner we could watch dance and snake-charming show.

Day 3 – Bou Azzer
Next day started with a huge fight with the bus company. At the beginning, before the Conference, the owner of the company wanted the whole payment for his buses in advance, finally he agreed for 60%. That morning in Ouarzazate, he started lying that he got only half of the money. He tried to blackmail us saying that the buses wouldn't go with us if we didn't pay the whole amount, including part we had already paid. Finally, we convinced the drivers to stay with us, we gave them the whole sum in the end (so we paid 60% more than we were supposed to). Whole situation ended up in the court, and recently we got back 75% of money from the owner.
Finally we made it to leave to Bou Azzer. We were on the northern edge of Sahara, after leaving Atlas mountains behind us. During the next couple of days we were accompanied by dry desert views. On the way to Bou Azzer, we stopped in a restaurant to pick up packs with lunch, but it wasn't prepared yet (it was supposed to be prepared 4 hours before we came). We had no time to wait so the restaurant owner promised to bring lunch to Bou Azzer. When we got there, first we stopped to take photos of Bou Azzer Center, which looks quite impressive – 3 shafts on the small hill surrounded by mine buildings.
A car with lunch arrived, and of course it turned out that it wasn't prepared as we asked. So we had to divide it on our own so it corresponded to the number of seats in the busses what took a while for 120 lunches.
Because the localities we were going to visit were not very big, and we didn't want them to be overcrowded, we divided the attendees into 3 groups – 3 buses in each group. Two groups went to Aghbar first, and one to Ait Ahman. Group that started at Aghbar dumps (famous for roselite, roselite-beta, wendwilsonite, talmessite) moved later to Agoudal quarry which is very rich in erythrite and Co-calcite. After these two localities there was still some time to visit Oumlil Est, most famous for karibibite, schneiderhohnite and scorodite. People found quite a lot of different specimens in all 3 places, mostly Co-calcite.
The group that started at Ait Ahman had less luck… It was arranged that special 4WD buses would wait for the group in Ait Ahman, but they didn't show up. There was a lack of the coverage so we couldn't even call them. We decided to walk, as it wasn't so far (3 km), but people were not really prepared to walk to the locality, so not all of them had a chance to see it. We used small cars to transport some people, but it was impossible to take everybody.
During the visit in Ait Ahman (famous for gersdorffite) people collected a lot of skutterudite and some erithrites. Then the group was taken to Agoudal, but there was not too much time left, because of previous problems in Ait Ahman, so the group spent there just a while.
It was a long day in the fields, people were tired, so we decided it was time to leave. We still had a couple of hours to get to our hotel, Kasbah Meteorite. It was late evening when we got there. Local Berber band was waiting for us at the entrance of the hotel playing music. Because the hotel was not big enough to hold all the people (even though it was the biggest one in the area) some participants stayed in rooms, and some in colorful Berber tents. After checking in, we had a party. The weather was nice so some people were partying by the swimming pool till the early morning.
For us, as for organizers, it was definitely the hardest day and the most problematic one during the whole conference. Our plan for Bou Azzer partly failed, for what we were very sorry. We were totally exhausted. We have been in Morocco many times so we knew that the mentality of Moroccans is a bit more relaxed than ours :-) this is why we confirmed every detail including the menus for every meal, timetables, numbers, prices and everything else we could think of 5 times but apparently it was not quite enough what made us a bit unhappy especially after the Bou Azzer trip which was supposed to be really perfect.

Day 4 – Alnif, Jebel ssimour, Merzouga
In the morning we drove to nearby Alnif – town famous for preparing trilobites and other fossils. It was possible to visit some fossil shops. From there we drove to Jebel Issimour, probably the world's most famous and productive trilobite locality. We visited there enormous, 30km long trench, following one layer of Devonian limestones rich in trilobites. People collected a lot of trilobites and other fossils. Then we visited Mcissi – Ben's place in the desert. Ben is our friend, he worked together with us on the conference. He prepared lunch for us and 100 l. of the best fresh orange juice ever !!! We also arranged a small fossil and mineral show there. After lunch we drove to the dunes of Erg Chebbi, where we were going to spend two nights. We came to Yasmina hotel and everyone drank the welcoming tea first. Then we had to divide people between two hotels again – Yasmina was our main base but it was too small for all of us. Some of the attendees staying in the nearby hotel - Palmiras y Dunas. In Yasmina some attendees stayed in rooms, while others slept in Berber tents, just next to the hotel. Yasmina is located on the very edge of the dunes, with beautiful views. The hotel itself is also very pleasant and stylish, with nice swimming pool where you can spend hot afternoons.
The evening was really warm and after dinner some people were partying at the terrace of Yasmina, some by the bonfire in the middle of the camp with Berber tents. Later some people moved to dunes trying to collect fulgurites by night (they turned out not to be fulgurites in the end) :)

Day 5 – Dunes, Taouz and camels riding.
Next day we took 4WDs because roads were quite rough, and first place we visited was oasis where we could see irrigation systems of gardens and orchards in the desert. Our next stop was Taouz, small hill with shafts and dumps, rich in hematite, pseudo-stalactites made of Mn-Fe oxides and hydroxides, mottramite, and highly desired vanadinites and cerussites. Some people found quite a lot of stuff and got really dirty with Mn-oxides but they looked happy. It was also possible to buy some minerals there. When everyone got back to the cars, we drove to ancient rock carvings, some probably more than 1000 years old. We had lunch with cold beverages in the middle of the desert, on red carpets spread on the rocks. Then we drove to the other side of the dunes and got back to Yasmina, where some of us took a cooling bath in the pool (the weather was really hot). Around 4.30 PM 120 camels waited for us in front of Yasmina. We formed a huge caravana and rode to the top of dunes to watch sunset. When we got back, we had relaxing evening with party and live music.

Day 6 – Erfoud, Hameda and Midelt
6th November in the morning we drove to Erfoud to see fossil "factories", fossil preparation, polishing, and some funny fake fossils too. Later we visited Hameda – a wide area with numerous small quarries, producing fluorites. It was possible to find some specimens, those who were patient enough to struggle with rocks, got some nice ones. We spent there about 2 hours collecting. After that we had a long drive through High Atlas to get to Midelt, where we stayed till the end of the conference. The drive was long, but with really beautiful views. In Taddart hotel we were welcomed by live music. Taddart is really big, so all the attendees stayed in one place this time. A few new attendees joined us that evening, so we organized taxies from Casablanca, Fes and Marrakech to bring them directly to our hotel in Midelt where finally everybody could meet.

Day 7 – the 1st day of the Conference
Main part of the Conference started on 7th November. There were three presentations in the morning, prepared by Jolyon Ralph, Tom Praszkier and Georges Favreau. After presentations we visited the hotel museum of minerals, owned by our friend, the president of Midelt and the owner of Taddart hotel – Rachid Adnan. After some free time, buses took us to Mibladen, where we spent the rest of the day in the building of local women's collective. It was specially repainted and cleaned for that day. There was a mineral show in several rooms around patio, women also sold handmade carpets and jewelry. On the patio, there was a huge, beautiful and very decorative tent, where we had lunch. It was prepared by families from Mibladen. After lunch we had socializing time, dinner and a party. We had special truck with toilets waiting in front of the building! :) People in Mibladen were apparently not used to such big events taking place in their town, there was a real crowd outside the building, so Moroccans themselves decided to organize some security from Mibladen, standing at the entrance of the building, and even some secret police protected us :)

Day 8 – 2nd day of the Conference
The second conference day started with presentation of Dimitri Tonkacheev, then Knut Edvard Larsen, Cal Greaber and Ray Hill. Then there was a break for lunch, and the afternoon presentations were prepared by Jolyon Ralph, Georges Favreau, Miro Ng and Penny Williamson. There's no need to add that in the evening we had a party in the hotel restaurant.
It was really relaxing day for us, we finally could get some rest!

Day 9 – 3rd day of the Conference and a secret party
Morning session of the 3rd day of the Conference was prepared by Georges Favreau, David Joyce, Olav Ravheim and Mark Mauthner. Presentation after lunch were given by: John Magnasco, Peter Lyckberg, DImitri Tonkacheev and Tom Praszkier. About 6.30 PM we drove to a secret place for a special party. People tried to guess where we were going, and some of them did, some of them thought that maybe it was going to be on the top of a mountain and were afraid that it was going to snow there, but we wouldn't tell the truth to anyone! After some 30 minutes drive we got to Les O mine. Even those who expected that the party was going to be underground, were surprised! There was a red carpet running through the entrance to the mine and it lead to the room where whole party was prepared. There were candles in geodes in walls of the mine, carpets, fancy table clothes, service like in a very good restaurant, excellent band from Taddart hotel played for us. Even we were impressed that it looked so amazing! It took huge effort to organize that. There were a few tons of stones that had to be moved from the mine by truck, stones that were left in the mine were used to build walls and ledges to make everything look neat and clean. It wouldn't have been possible without help of our friend from Mibladen, Mohammed Laroussi, who helped a lot with the conferece. When Tom came to the idea to make a party in the mine, everyone in Morocco thought it was completely insane, but when they saw that party, they are now thinking about making wedding parties there!
People had fun, some of them danced. Gandarmerie stood in front of the mine, making sure that everything was going OK and safe. A lot of Mibladen citizens came to see what was going on in the mine and took pictures of this untypical event. I think we can call this party a full success! Unfortunately, it was the last evening for some people, they had their flights the next morning.

Day 10 – Mibladen
Next morning post-conference field trips started. We spent the day in Mibladen area, famous mostly for beautiful vanadinites, divided into 3 groups because localities there are quite small. In Coudya each group had to be divided again into 3 smaller groups, because the shafts are very narrow. After that we spent time collecting in Lidal mine, and then Les O again, this time without red carpets. People collected quite a lot – vanadinites, cerussites and wulfenites, were dirty and happy again! It was also an opportunity to see dinosaur traces.
Evening in the hotel restaurant was quite interesting, because some of the attendees decided to reveal their vocal talents, and sang a few songs with the accompaniment of the band.

Day 11 – Aouli, Sidi Ayed
The next day we drove to Aouli. We stopped in a spectacular gorge with an old mining center to take photos. The weather was getting worse and windy. When we got to Sidi Ayed, the wind was so strong that it was even hard to walk. Finding some nice azurite, malachite or fluorite wasn't difficult, but then it also started raining, and we had to finish collecting because the conditions got really bad. We drove back to the hotel, had free time and, as usual, party in the hotel restaurant in the evening.
In the evening and during the night the weather got even worse. We got information that it was snowing in the mountains, and that some roads were closed because of snow…

Day 12 – Change of plans, some people have to leave earlier because of snow
In the morning we were supposed to go to Kerrouchen, but it was impossible because of the weather conditions, it was still snowing. We had to stay in the hotel, so we organized some mineral dealers to come to our place and it was possible to buy some specimens. Some people decided to leave earlier than planned, because journeys could take much longer than usual because of snow, and they wanted to be sure to get to the airports on time. We had to reorganize the whole schedule and organize buses and taxies.

With some complications, but we made it to get everyone to their hotels and airports, and, as far as we know, everyone got home safe. So did we. We left on 13th November and visited Kerrouchen on our way to Casablanca. The weather got a bit better. We got to Casablanca in the evening. Next evening we were finally home, safe and sound, and got some rest after 3 tense weeks!
We hope that all the participants of the 2nd Mindat.org Conference were happy with the event and their time spent together in Morocco and that they will also join us for the 3rd Conference. Thank you all for being with us and making it so special! We would also like to thank to everybody who helped in any way during the conference.
You can see some other reports from the conference here and here.


Tomasz Praszkier and Agata Leszczuk

Trailer of the Morocco Conference, made by Spirifer Minerals team.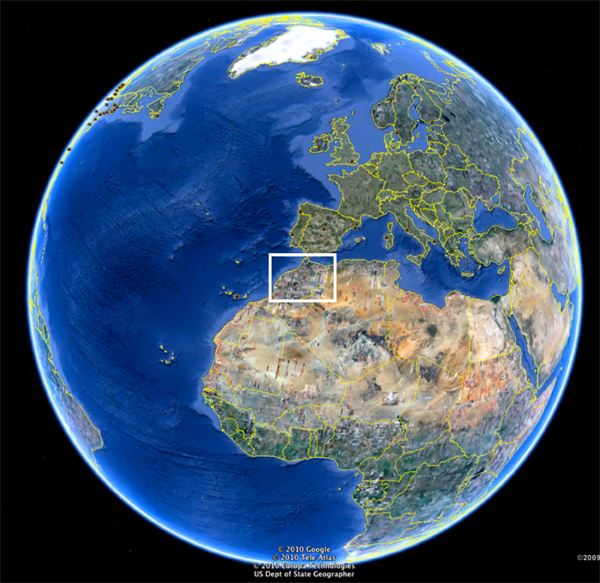 Morocco. Google Maps.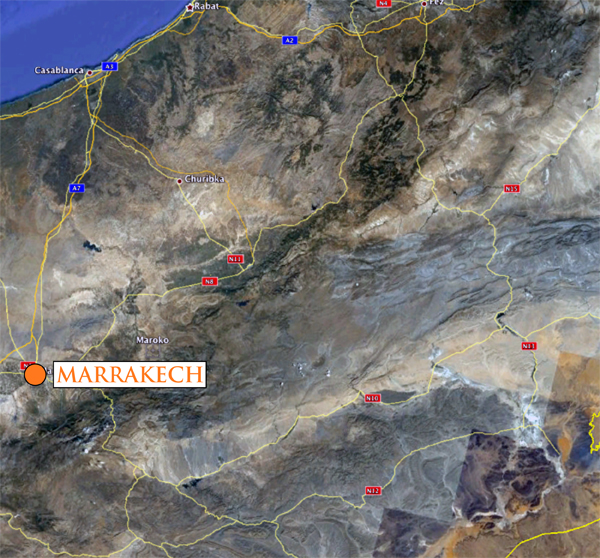 We lended in Marrakech a few days before Conference to make the final arrangements. Google Maps.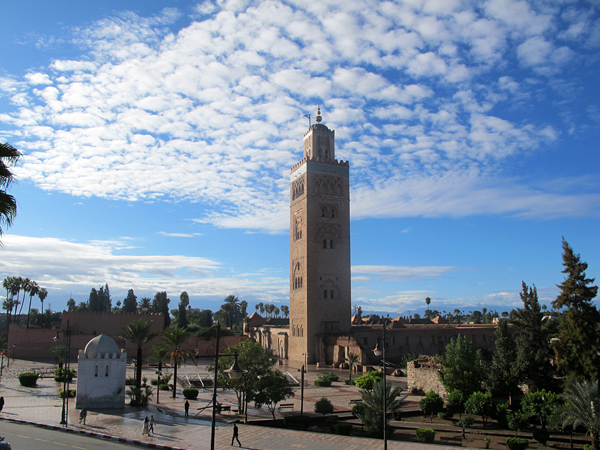 View from the tarrace of the Islane hotel - our main base in Marrakech. A. Leszczuk photo.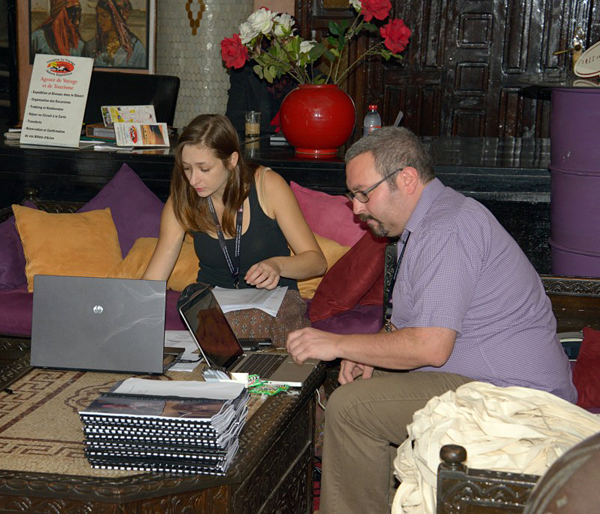 Setting up registration desk in the Hotel lobby. A. Akhavan photo.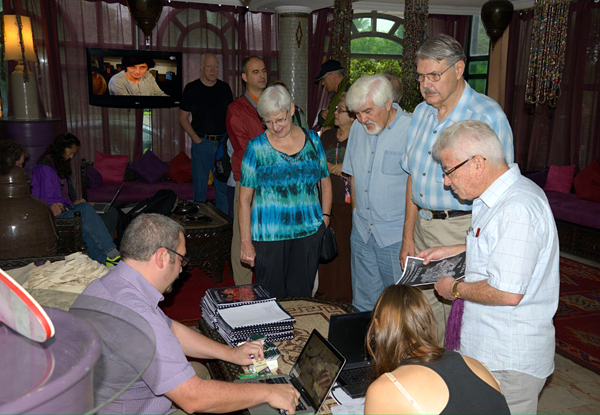 Registration starts, there was quite a big line. A. Akhavan photo.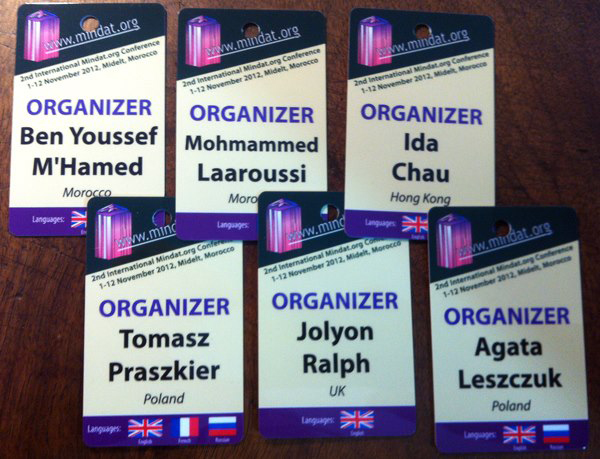 Each participant had a personal badge, here badges of the organizers. T. Praszkier photo.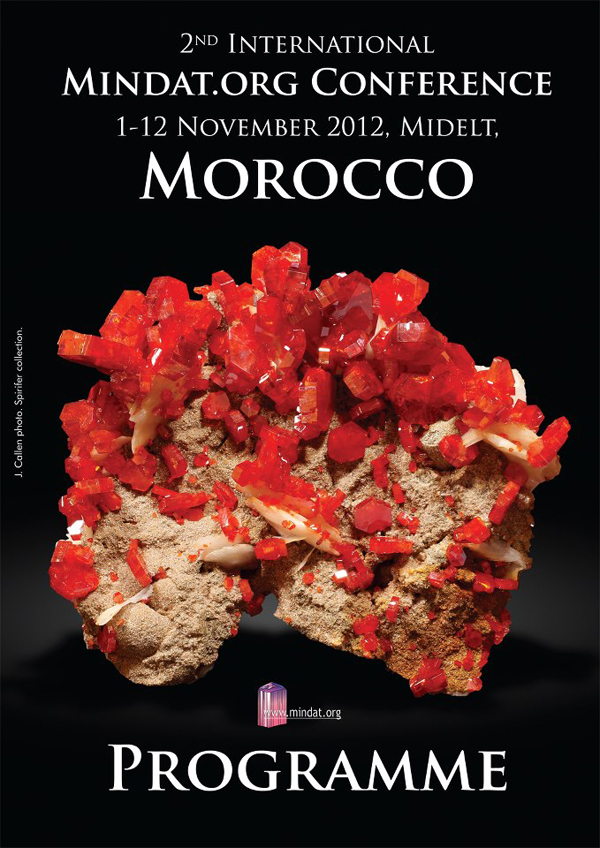 Each participant received guide for the event, it can be also dowlonaded as PDF here.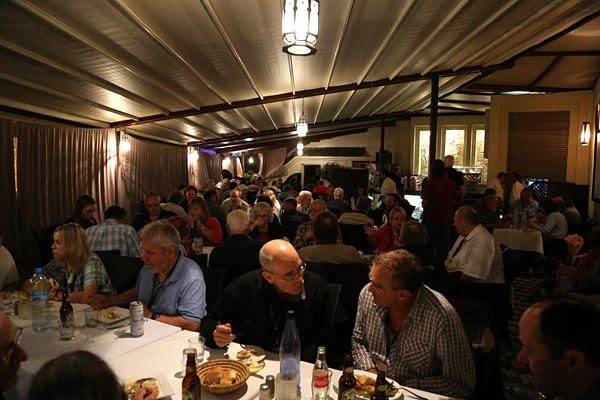 First "un-official" dinner, officlay the Confrence started on 1st November. J. Ralph photo.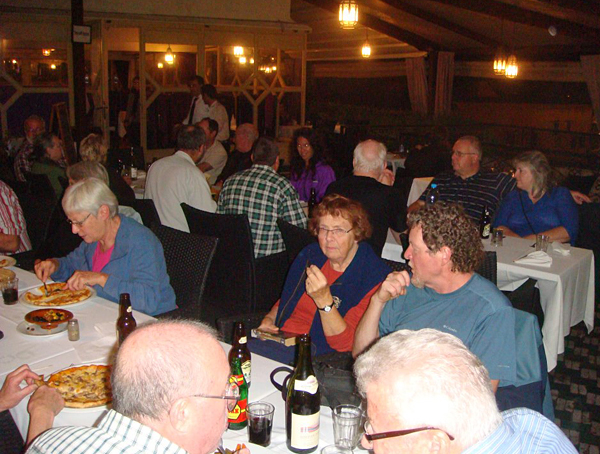 First dinner. J. Lindell photo.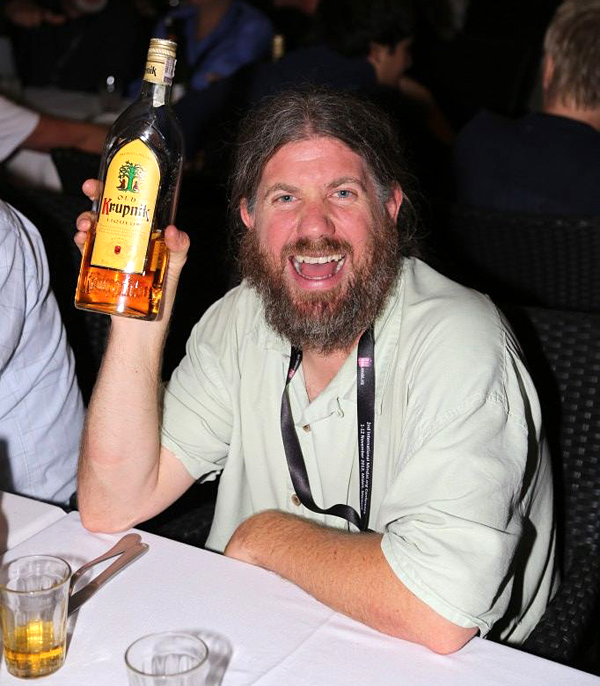 And of course there was a party with famous Krupnik, some of us stayed untill early morning. J. Ralph photo.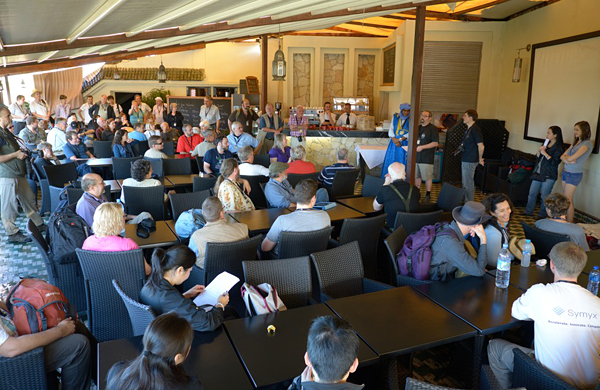 1st November morning - Conference officialy stats, organizational meeting. A. Akhavan photo.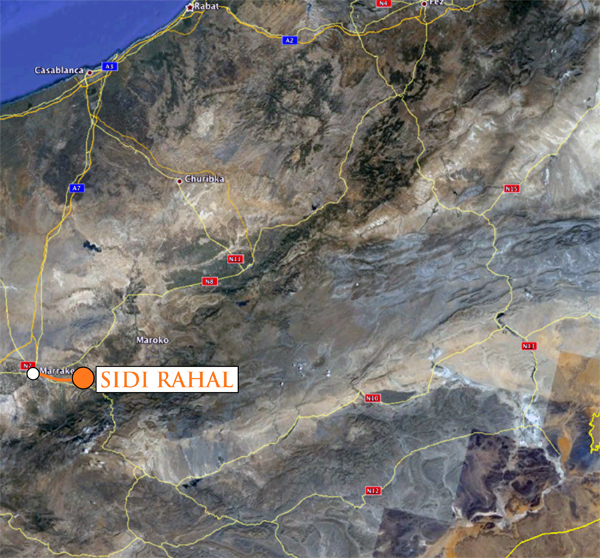 After meeting we drove to Sidi Rahal to visit basalt quarries, famous for all kinds of the quartz specimens.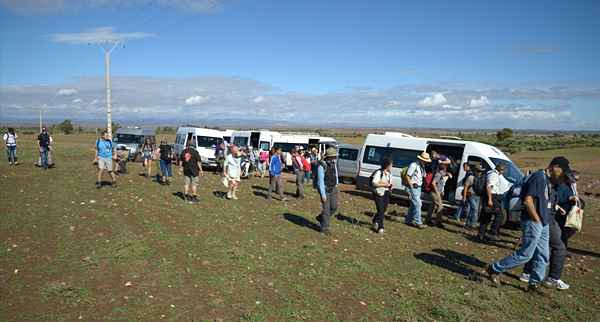 Our mini-buses stopped close to the quarries. A. Akhavan photo.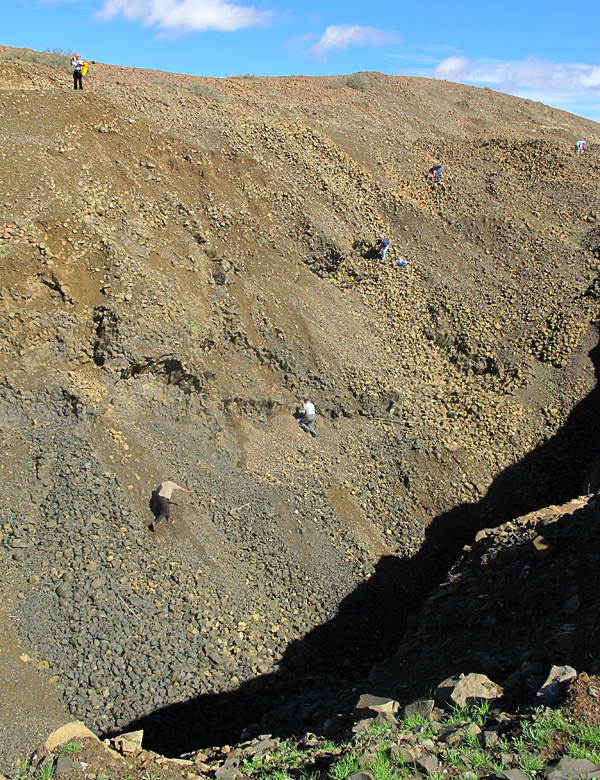 First locality, a lot of excited people digging in basalt ;-) A. Leszczuk photo.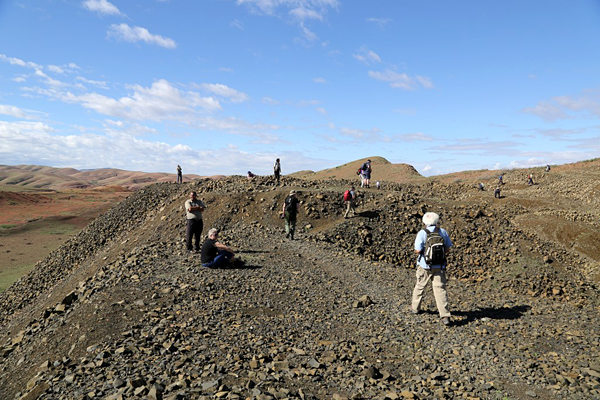 Collecting on dumps. J. Ralph photo.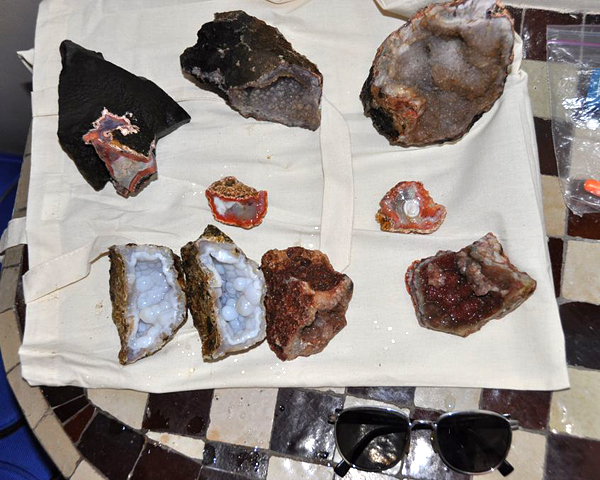 Some of the treasures found by participants. D. K. Joyce photo.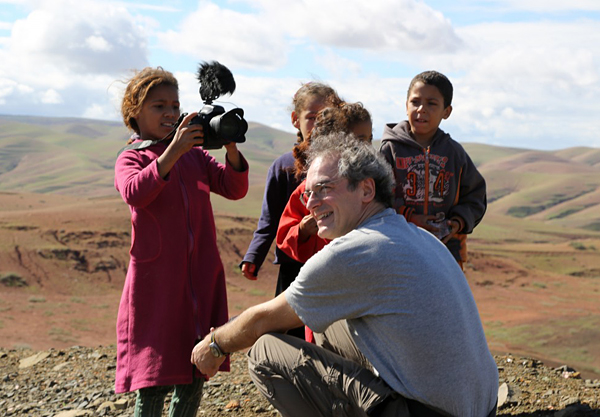 Amir Akhavan photographed by local kids. J. Ralph photo.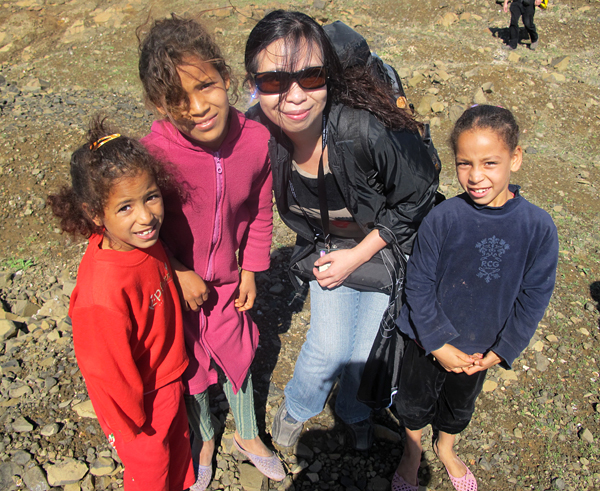 Ida Chau (Mindat.org co-owner) with kids on the dump. A. Leszczuk photo.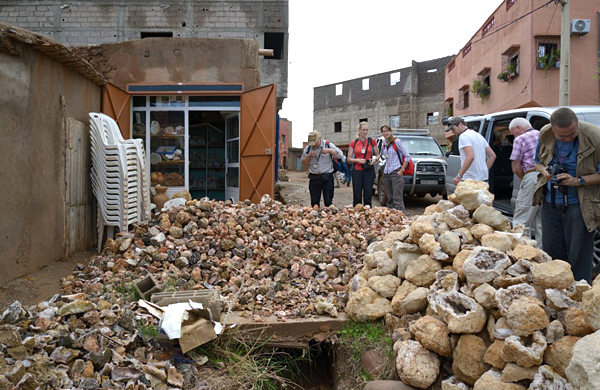 After visit in the quarry we went to local dealer - Ahmed, who prepaired for us a traditional lunch. A. Akhavan photo.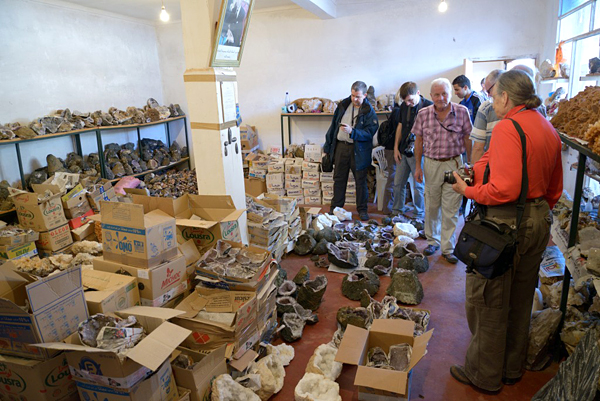 In Ahmed`s storage... a lot of stones... A. Akhavan photo.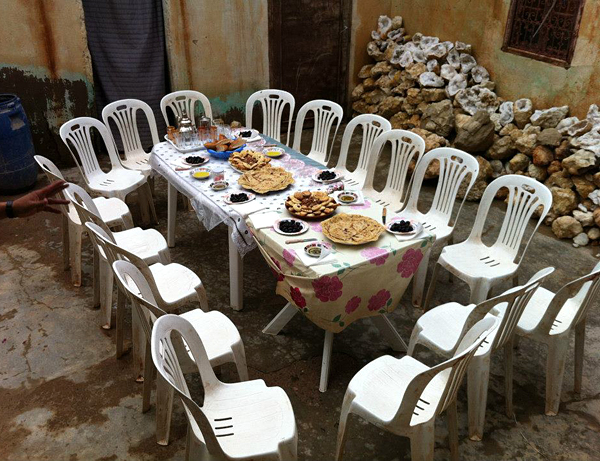 There were so many of us that lunch waited in several rooms. A. Gajowniczek photo.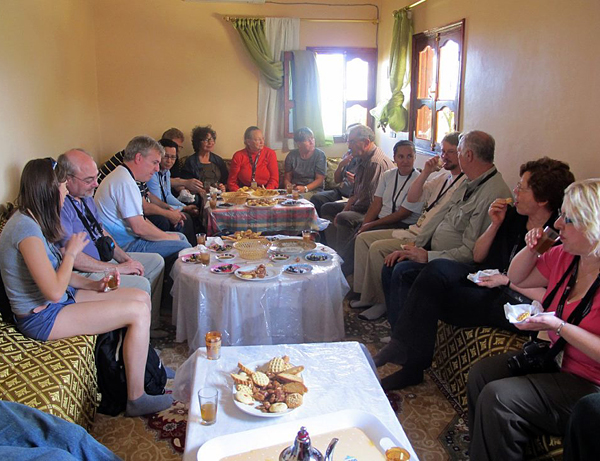 Lunch in Ahmed`s house. A. Gajowniczek photo.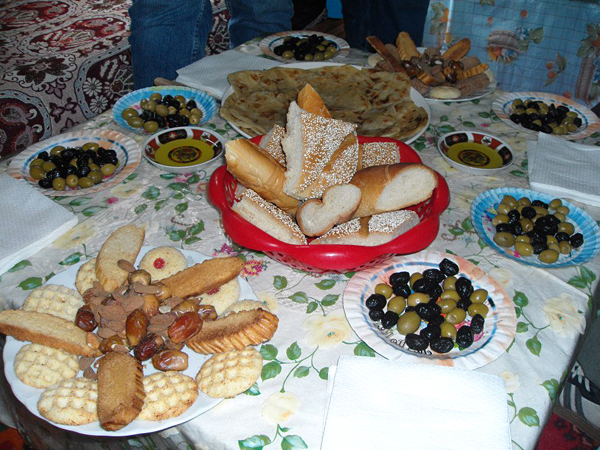 Dates, olives, bread, olive oil....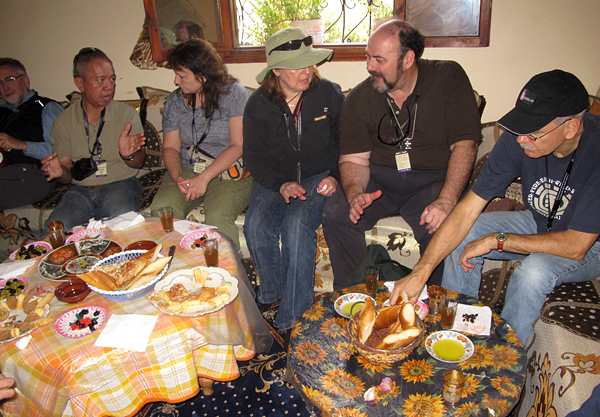 Chating during the luch. A. Leszczuk photo.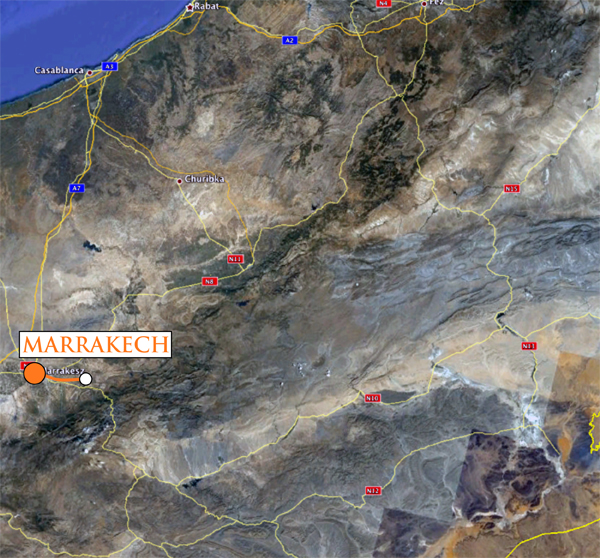 From Sidi Rahal we came back to Marrakech.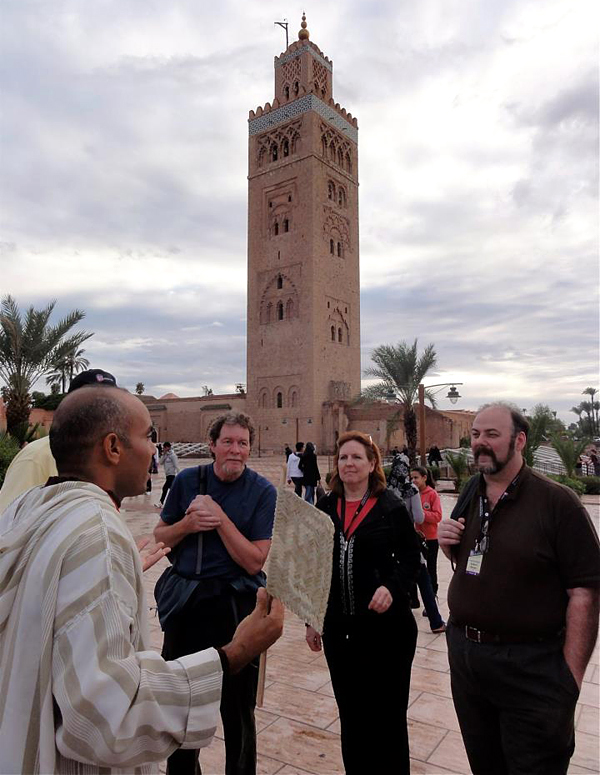 Group was devided into 10 sub-groups and went with the guides to see the famous Marrakech old town. J. Montgomery photo.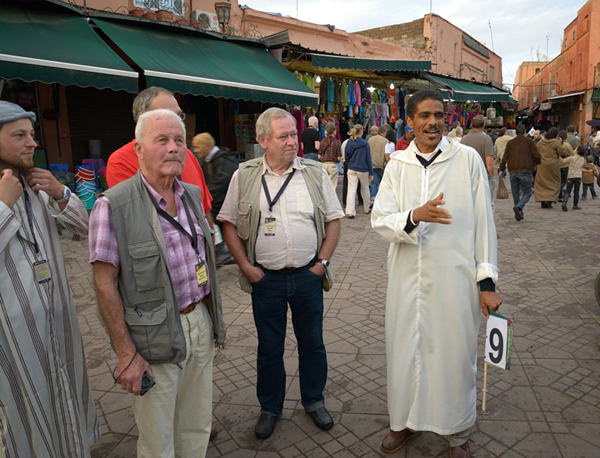 Guide showing medina to the group no. 9. A. Akhavan photo.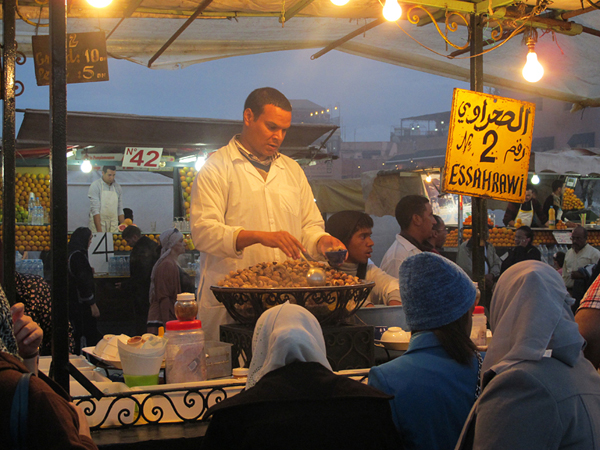 Snail sellers at the old town. A. Leszczuk photo.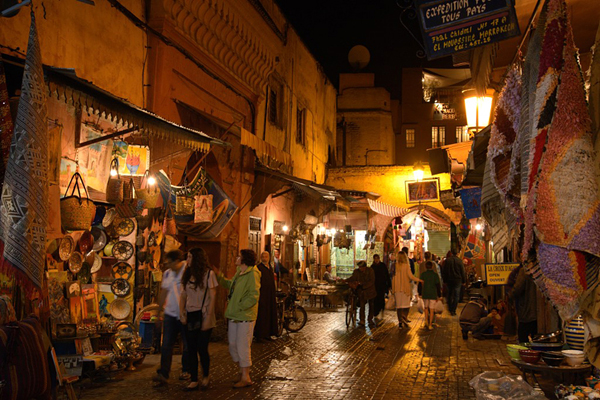 Medina at the eveining. A. Akhavan photo.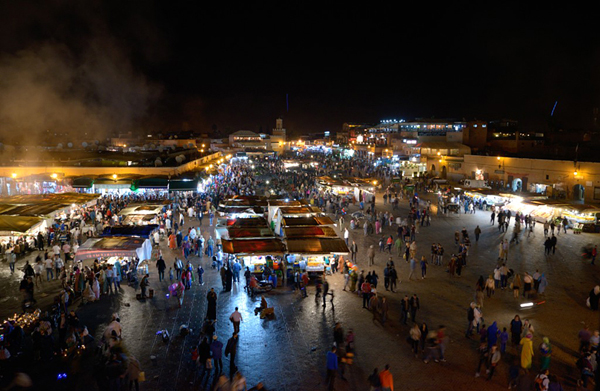 We ended tour on the panoramic terrace reserved only for us with great view to Jema el-Fnaa. A. Akhavan photo.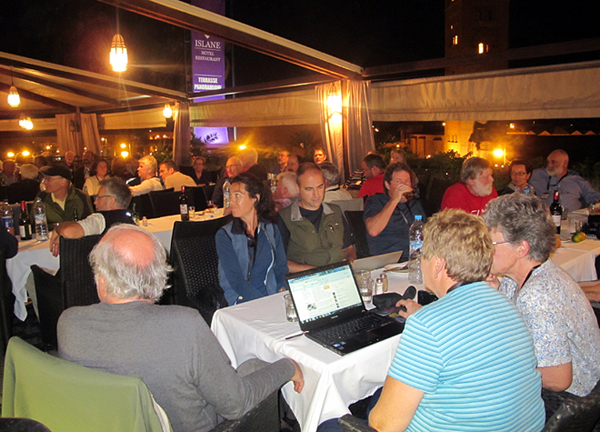 After sightseeing we had the first official dinner and party at the terrace of our hotel. A. Leszczuk photo.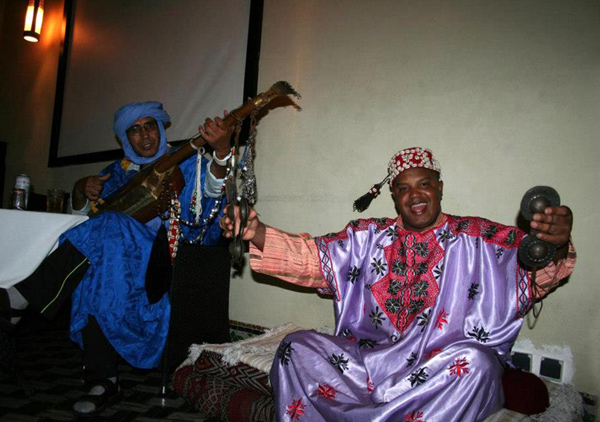 Musicians... G. Brandstetter photo.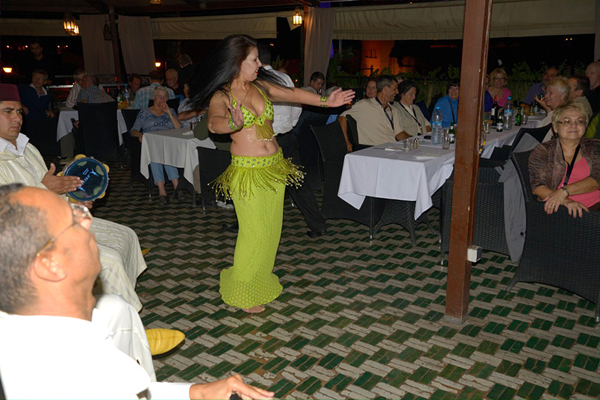 ... belly dancer ... A. Akhavan photo.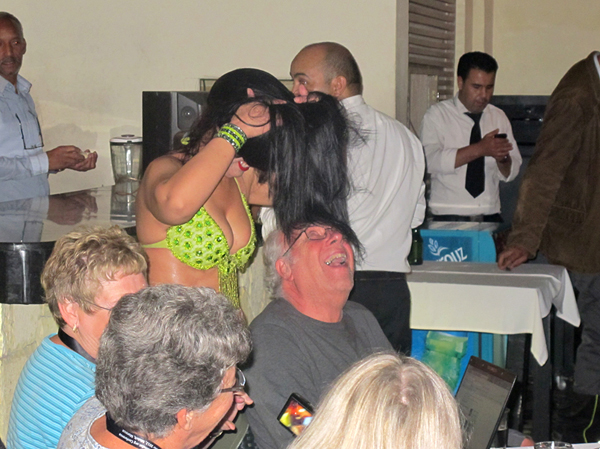 ... haveing fun with participants :-) A. Leszczuk photo.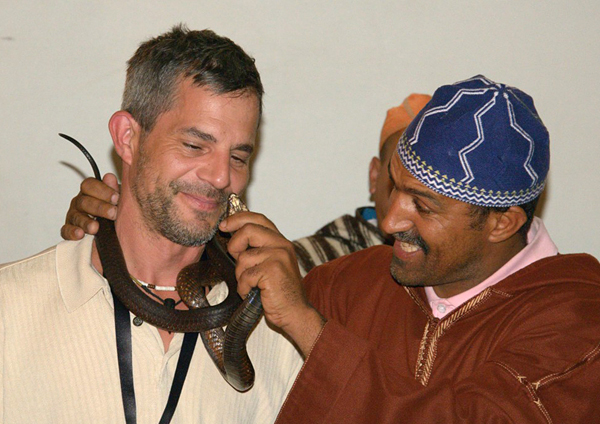 Snake-charmers ... A. Akhavan photo.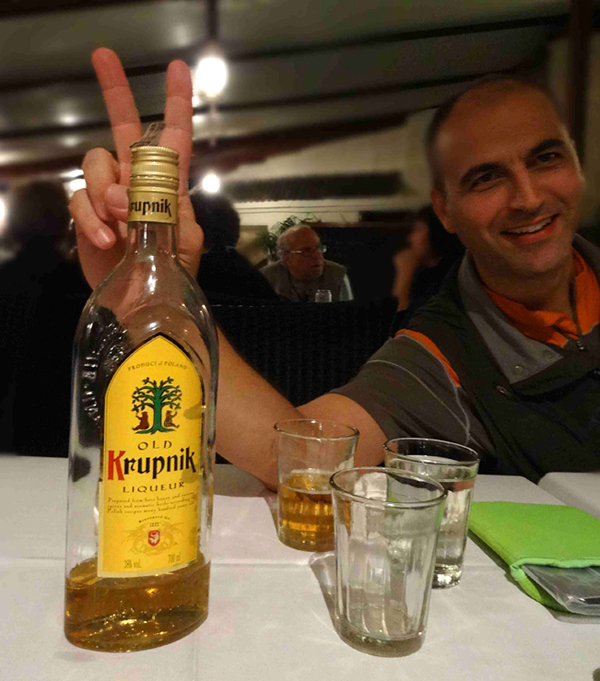 ... and of course Krupnik. Mark Mauthner just drunk almost the whole bottle :) A. Kuha photo.
Next morning we drove through High Atlas to Ouarzazate town.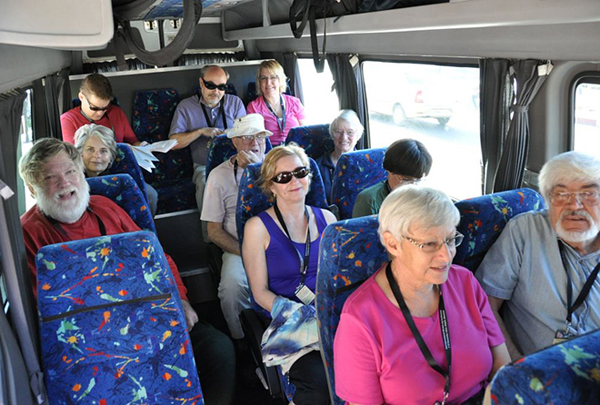 Inside of "Canadian" mini-bus. D. K. Joyce photo.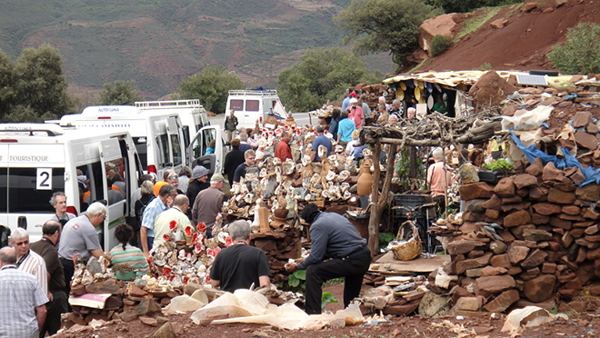 We hed several photo-stops on our way. I. Chau photo.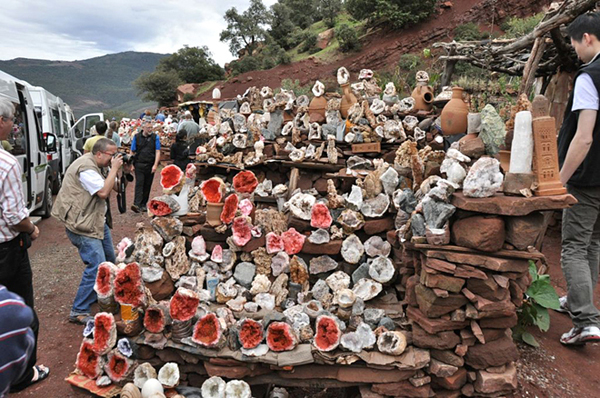 Store with faked geodes. D. K. Joyce photo.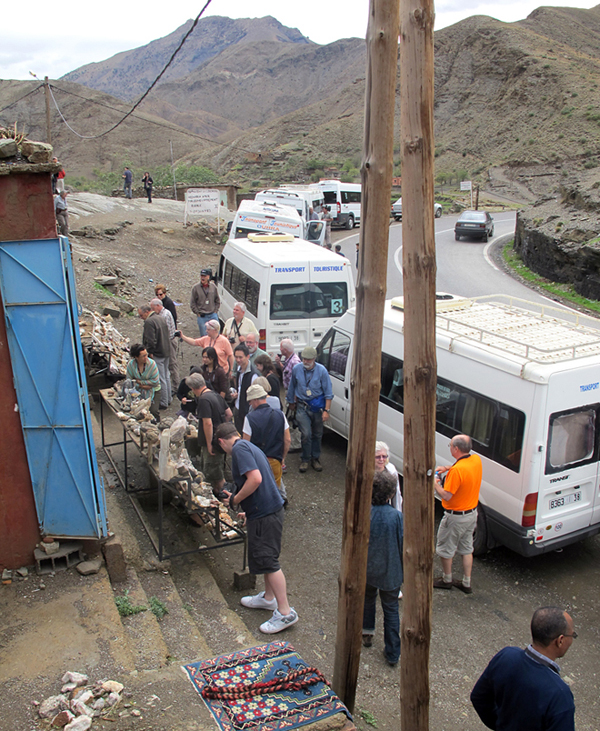 Another stop with great landscape. A. Leszczuk photo.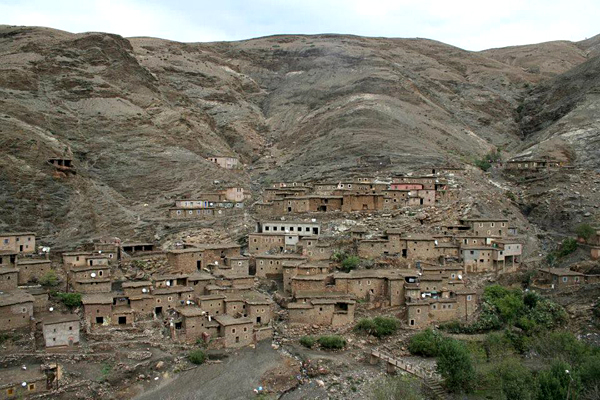 Landscape in High Atlas. G. Brandstetter photo.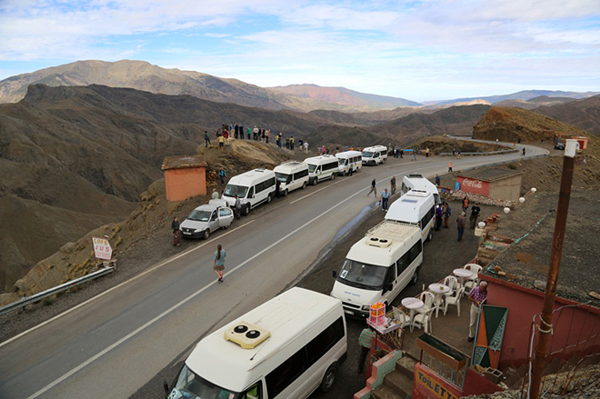 Close to the main pass. J. Ralph photo.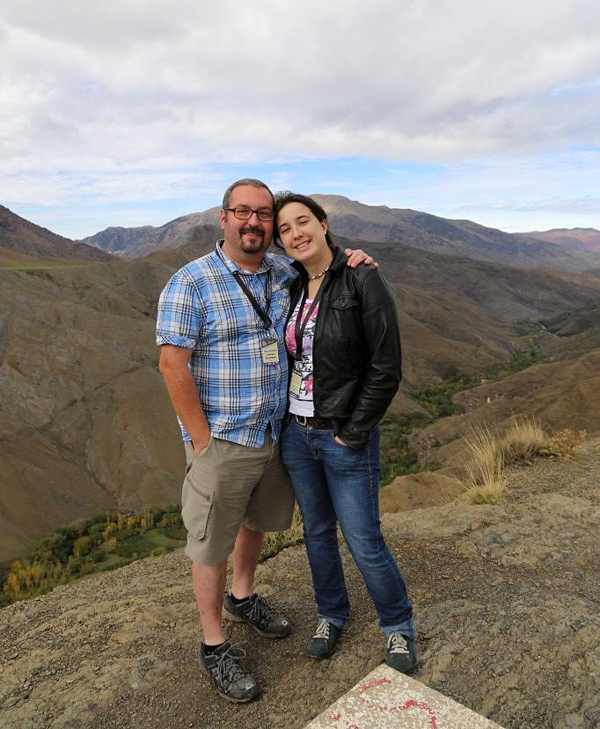 Asia came only for 1 day to visit us, unfortunately she could not stay longer. J. Ralph photo.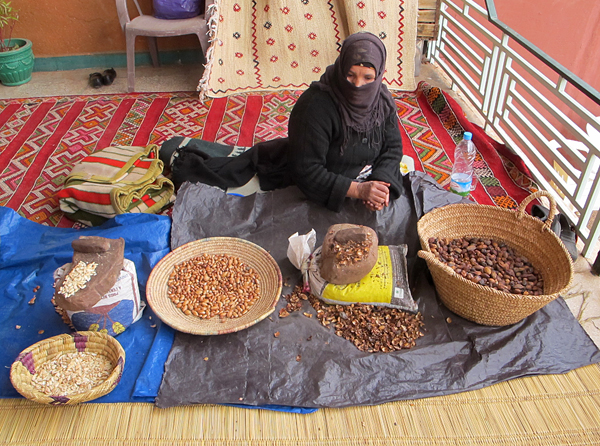 We had a lunch in Palace de Tichka where we invited women from the local collective. A. Leszczuk photo.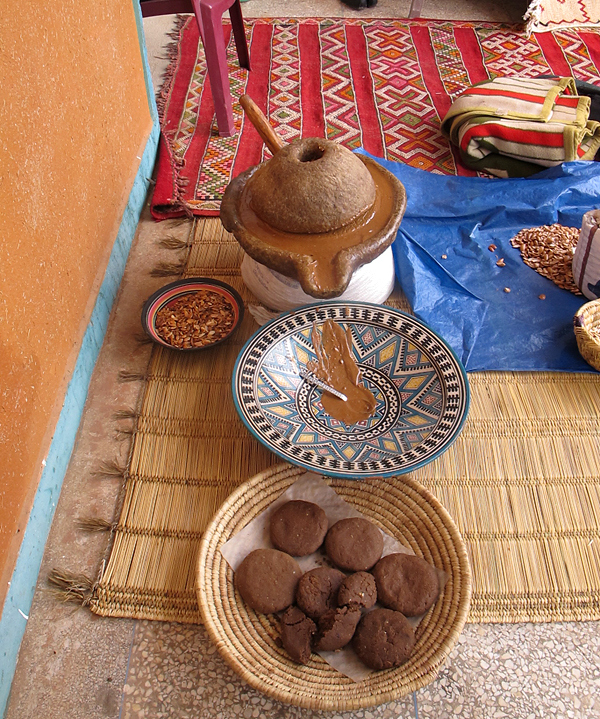 They produce argane oil using traditional methods. A. Leszczuk photo.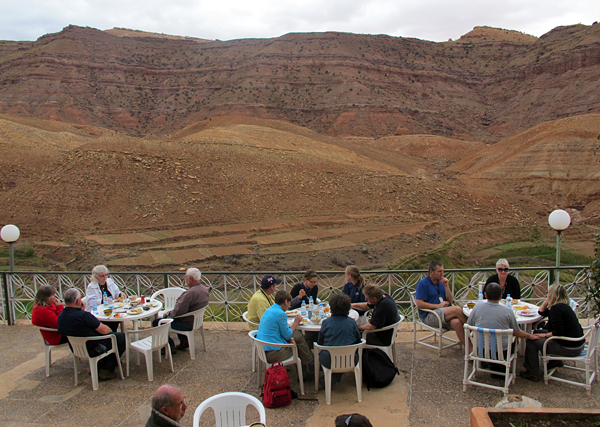 Lunch with great view. A. Leszczuk photo.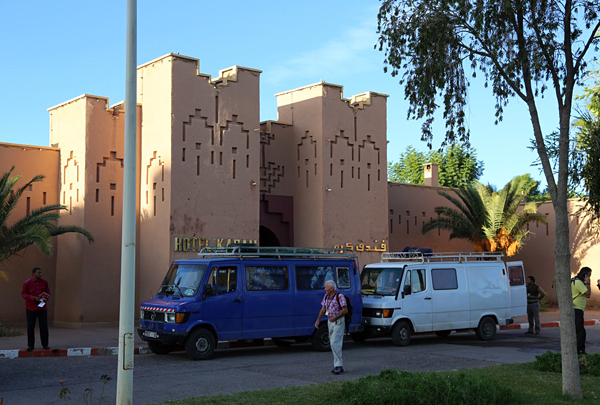 Finally we arrived to Ouarzazate, 2 buses on the front of the hotel transported our lugguage. J. Ralph photo.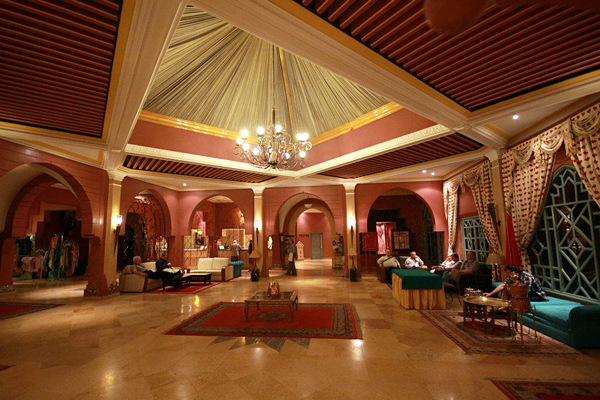 Lobby of the hotel in Ouarzazate. S. Burchmore photo.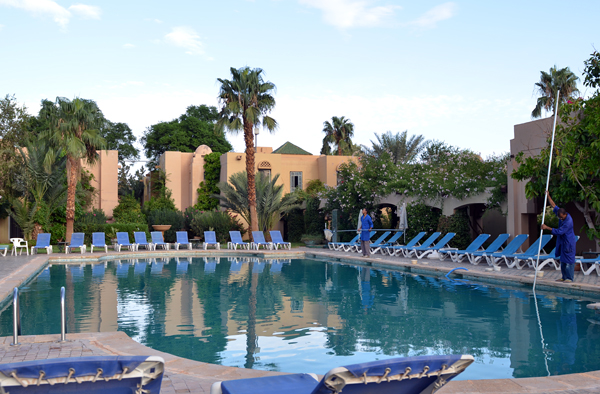 This is how swimming pool was supposed to look like, unfortunately it turned out that it was renovated during our visit. T. Praszkier photo.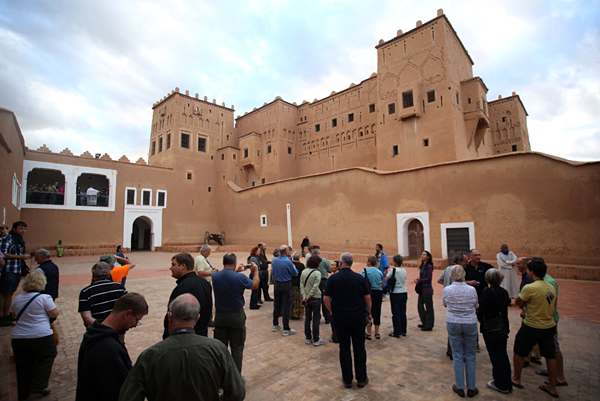 Kasbah Taourirt. J. Ralph photo.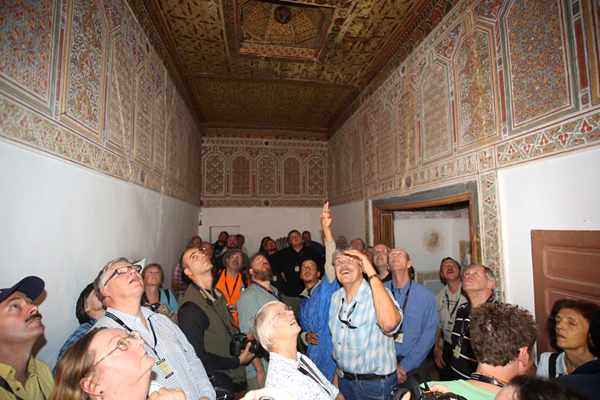 Kasbah Taourirt. J. Ralph photo.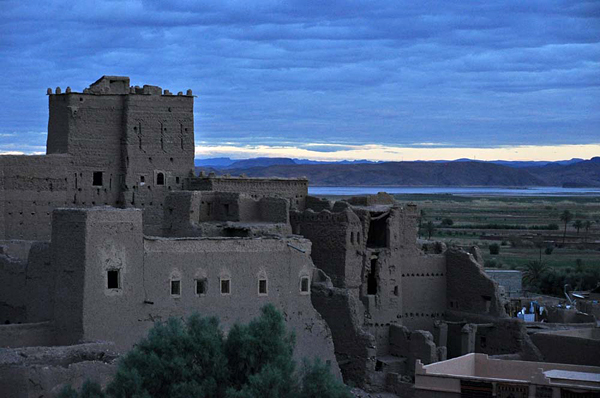 Kasbah Taourirt. D. K. Joyce photo.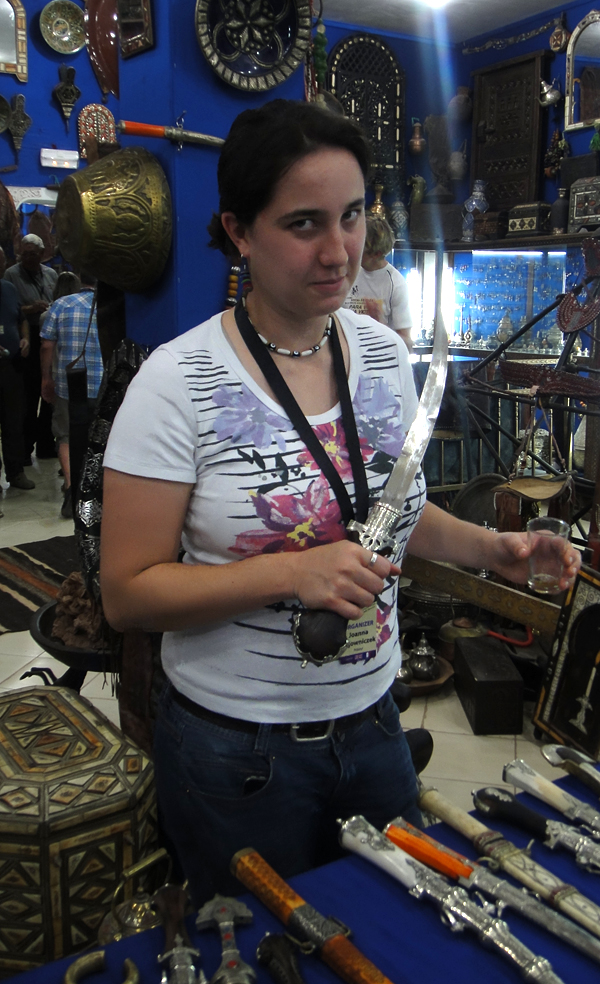 Asia playing with a knife in souvenir store ;-) I. Chau photo.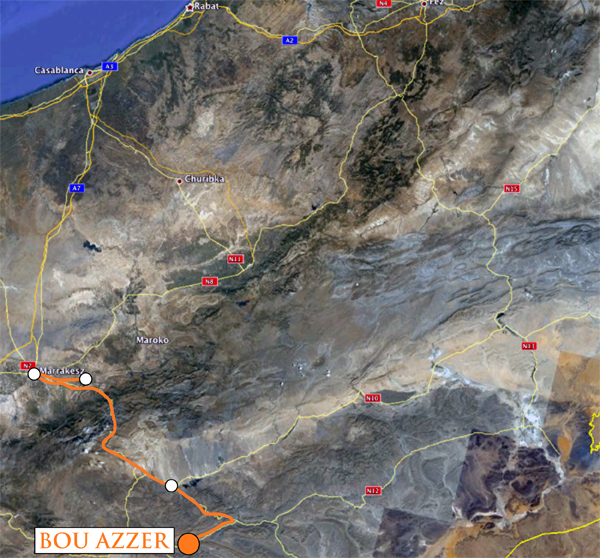 Next day was very long. We drove to Bou Azzer where we spend most of a day.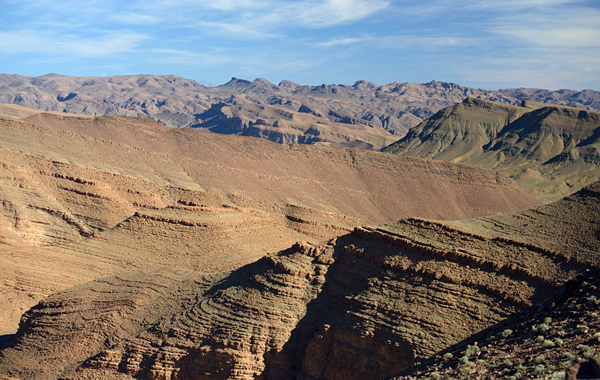 On the way to Bou Azzer. A. Akhavan photo.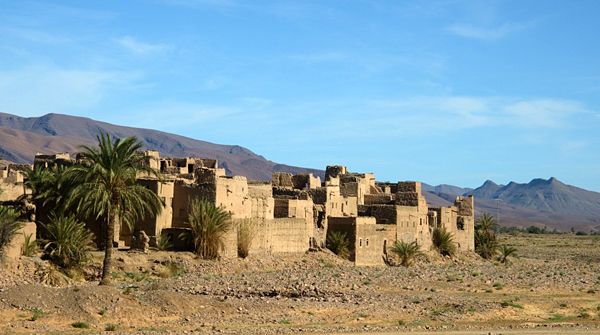 On the way to Bou Azzer. A. Akhavan photo.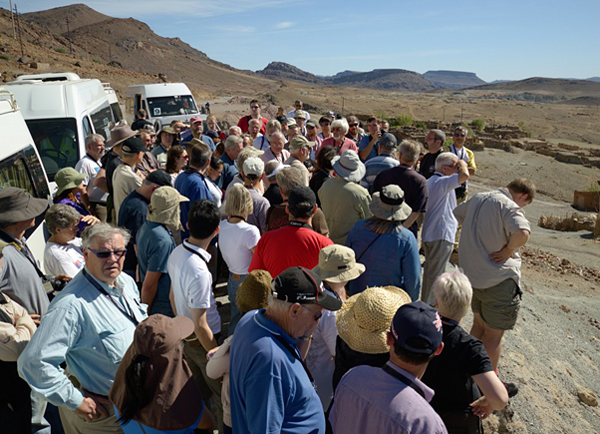 Finally we arrived to Bou Azzer mining center. A. Akhavan photo.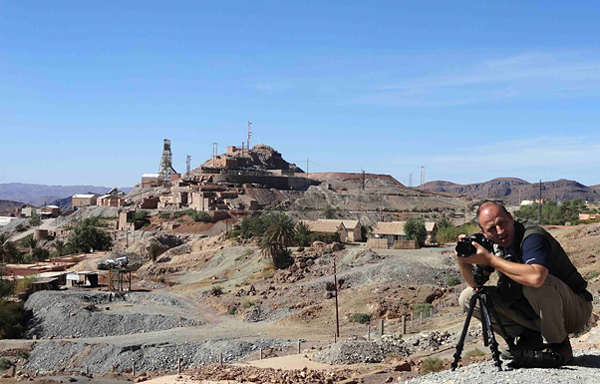 Mark Mauthner is taking photos, behind him - the mining center of Bou Azzer. A. Kuha photo.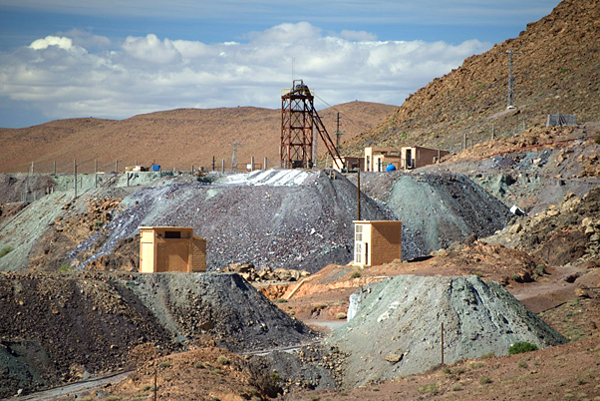 One of our collecting spots - Aghbar mine. A. Akhavan photo.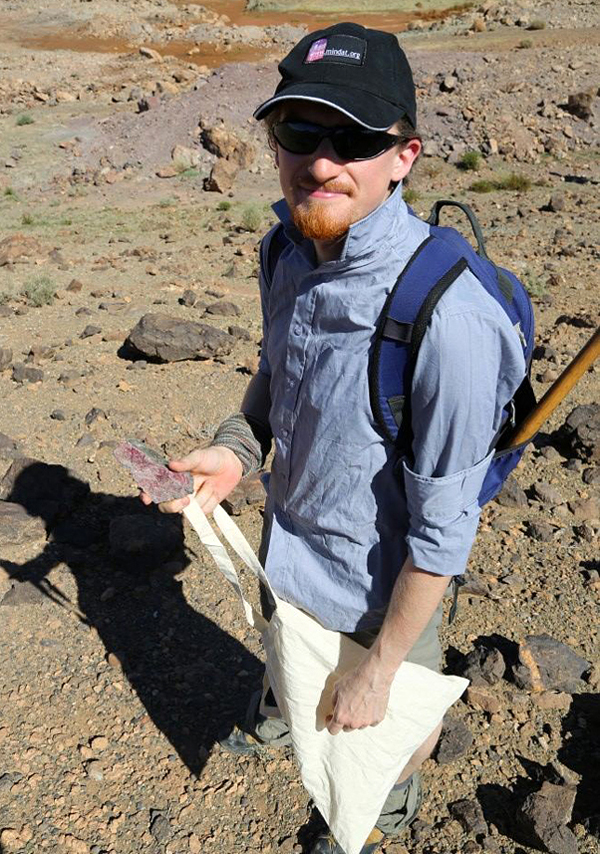 Mike Rumsey with freshly collected erythrite. A. Akhavan photo.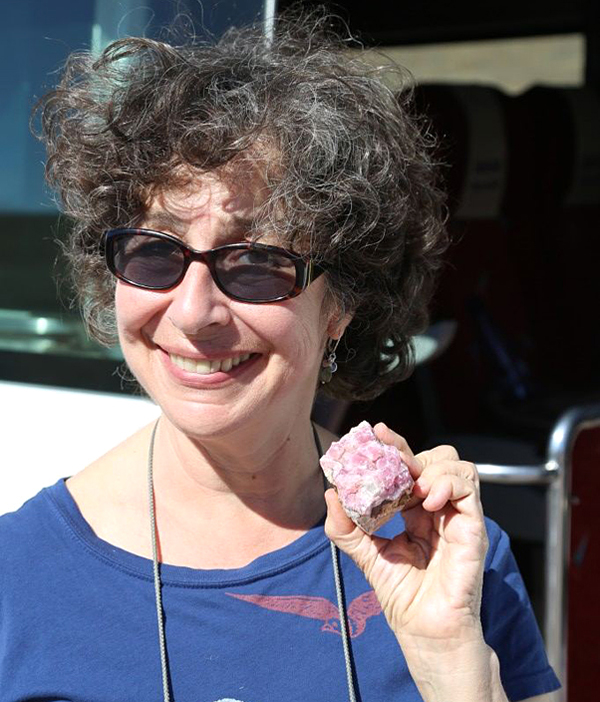 Jamie Newman with self collected co-calcite. J. Ralph photo.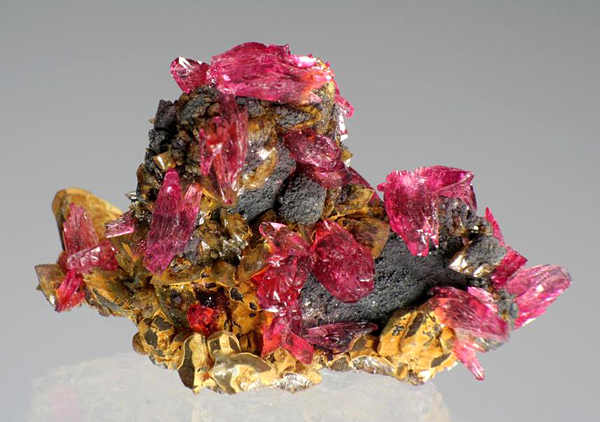 Roselite from Aghbar bought by Gerhard Brandstetter. G. Brandstetter photo.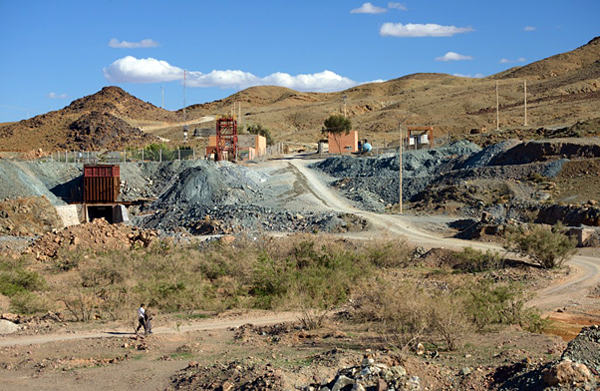 Second collecting spot - Agoudal quarry located on the front of Agoudal mine. A. Akhavan photo.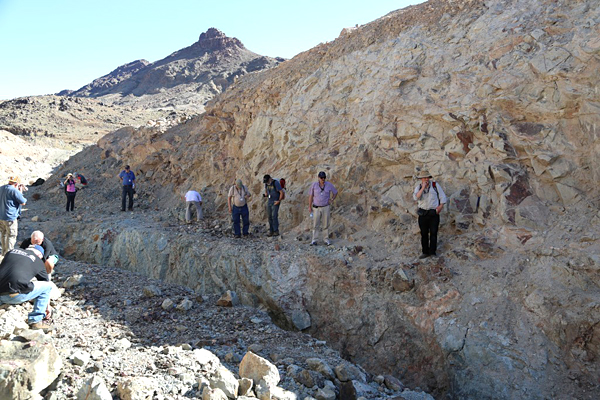 Collecting in the Agoudal quarry. J. Ralph photo.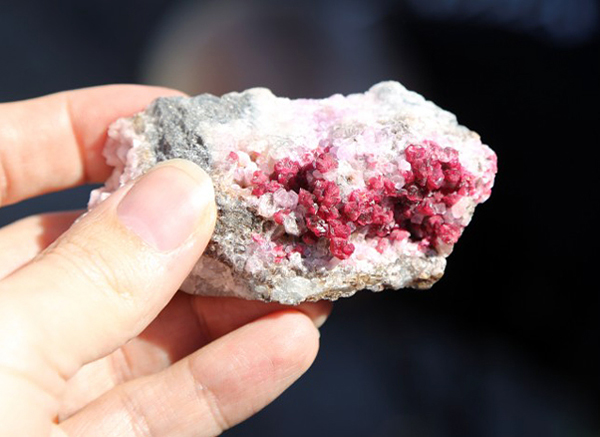 Roselite-beta found by Cal Greaber. J. Ralph photo.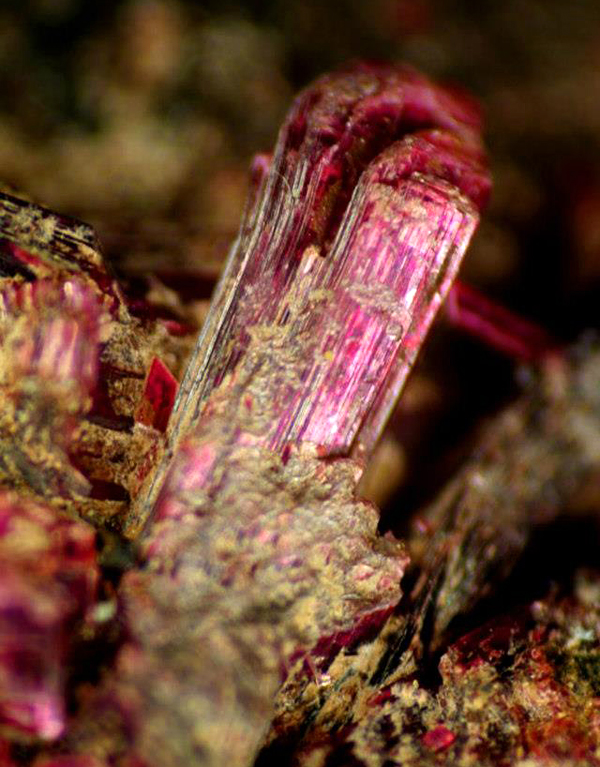 Self collected erythrite. G. Brandstetter photo.
After long day in the fields we drove another 2 hours to our hotel.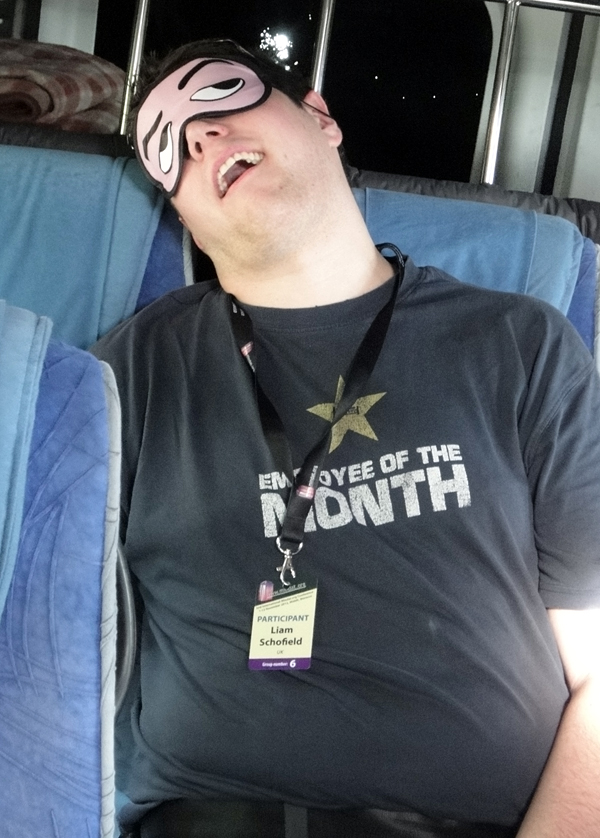 Some of us where exhaused as Liam Schofield - Employee of the month ;-) I. Chau photo.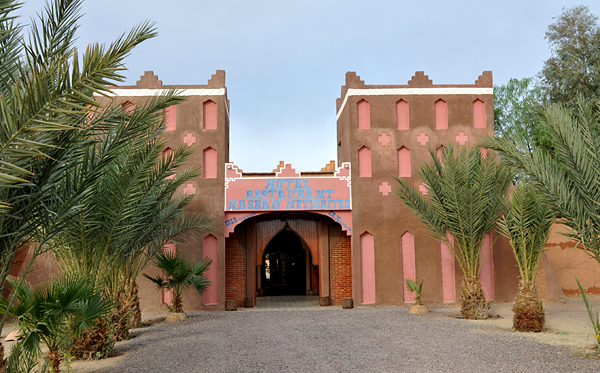 We spent the night in Kasbah Meteorite hotel. T. Praszkier photo.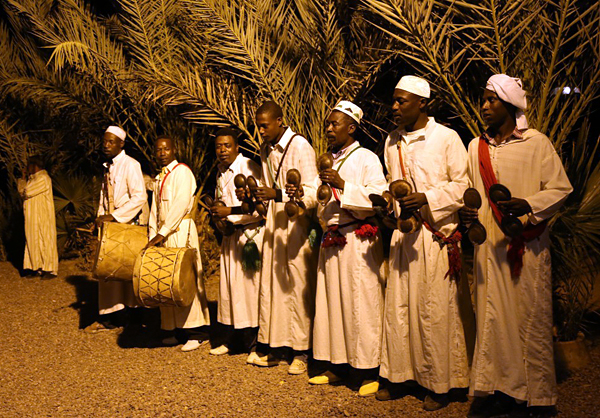 The band was waiting for us at the front of the main gate. J. Ralph photo.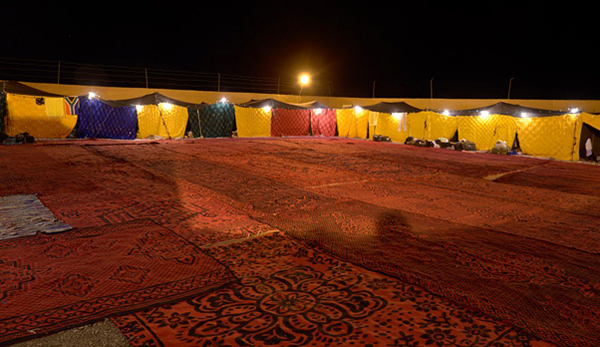 Some of us slept in Berber tents because there was no hotels big enough for our group. A. Akhavan photo.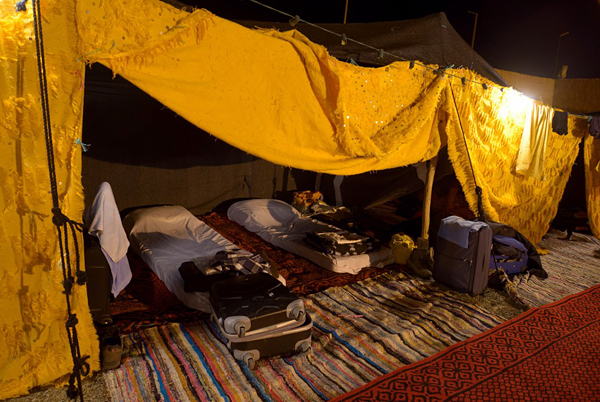 "Rooms" in berber tents. A. Akhavan photo.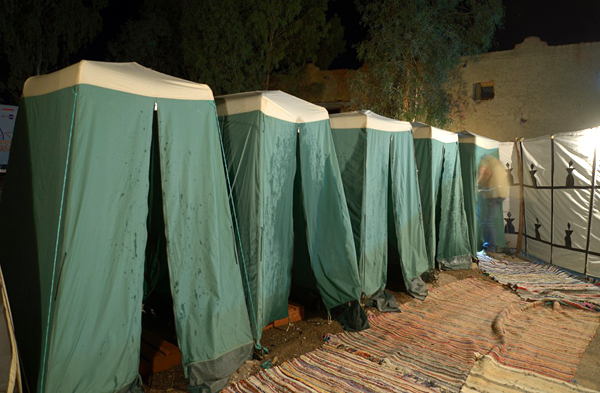 Additiional showers made for our group ... A. Akhavan photo.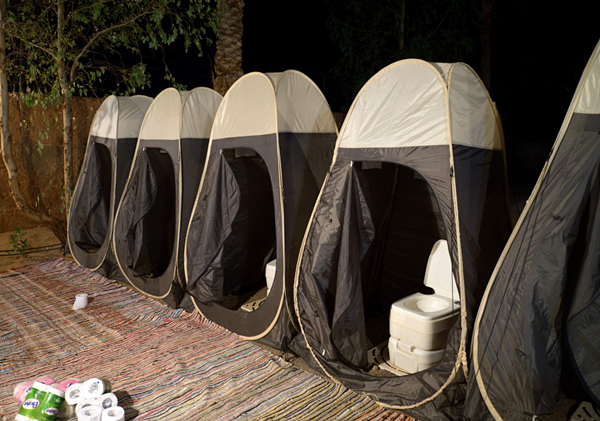 ... and toilets :-) A. Akhavan photo.
Some of us (here Jolyon Ralph - Mindat.org boss) started to pretend to be Moroccan :-) M. Ng photo.
Next day we drove to nearby Alnif and than to Jebel Issimour and Mcissi.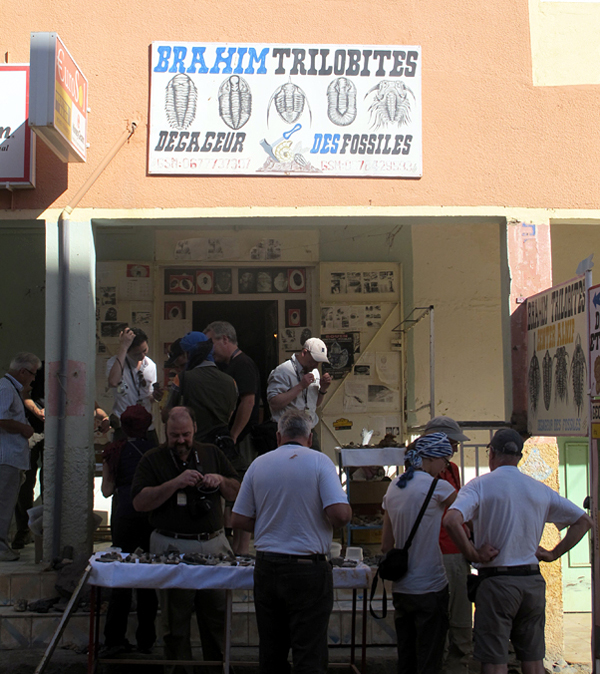 Visiting fossils` stores in Alnif. A. Leszczuk photo.
Visit at Jebel Issimour where we explored a huge trench for trilobites. A. Akhavan photo.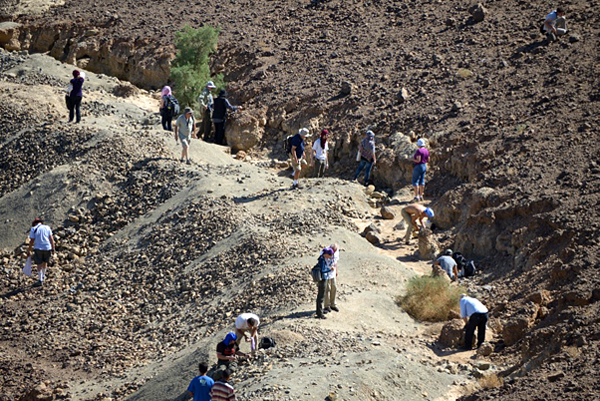 Mindat gang collecting... fossils! A. Akhavan photo.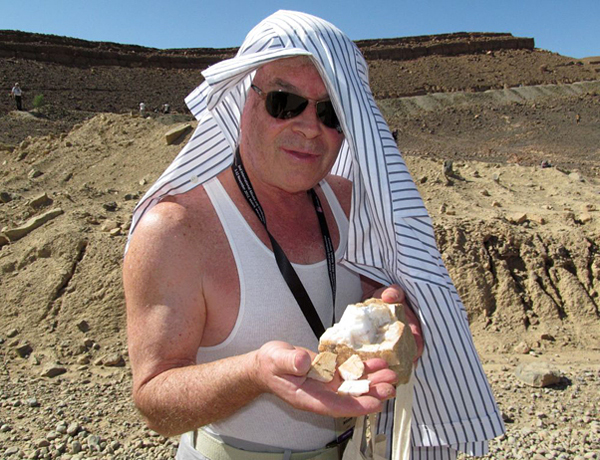 John Attard found some ugly calcite :-) A. Esner photo.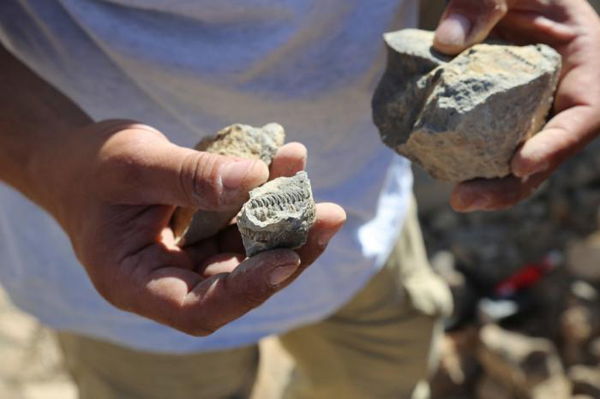 Trilobites. D. K. Joyce photo.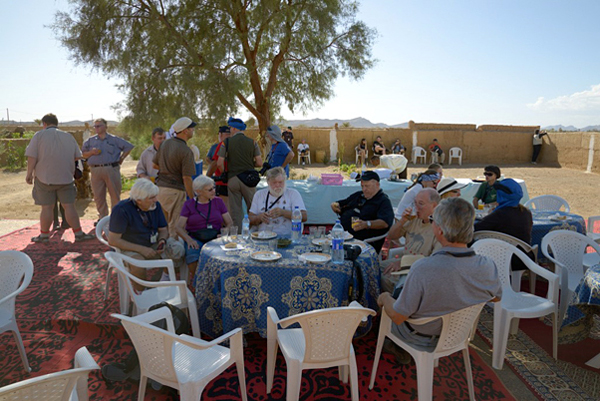 Lunch was prepared in Ben`s (one of our guides) place. It was well done in tradittional style. A. Akhavan photo.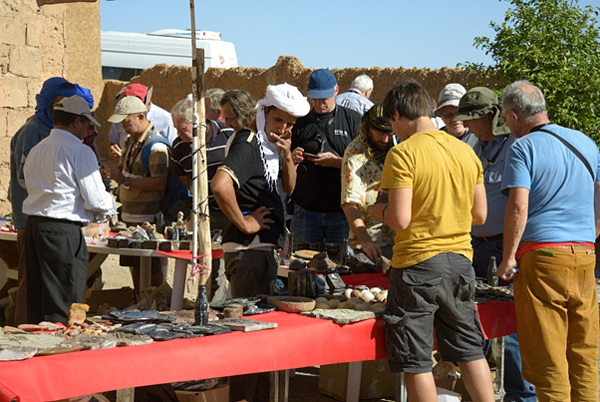 We organized small fossils-meteorite show in the lunch`s place. A. Akhavan photo.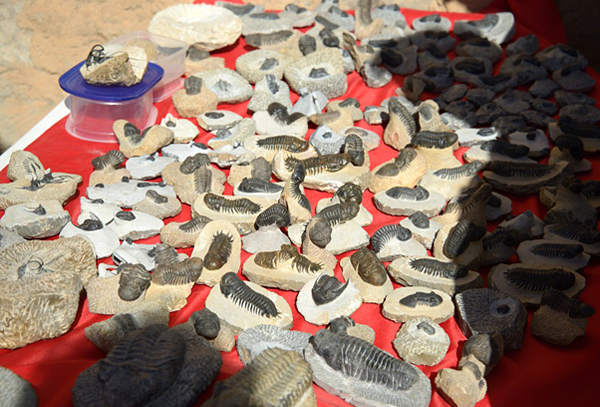 Local trilobites offered at the show. A. Akhavan photo.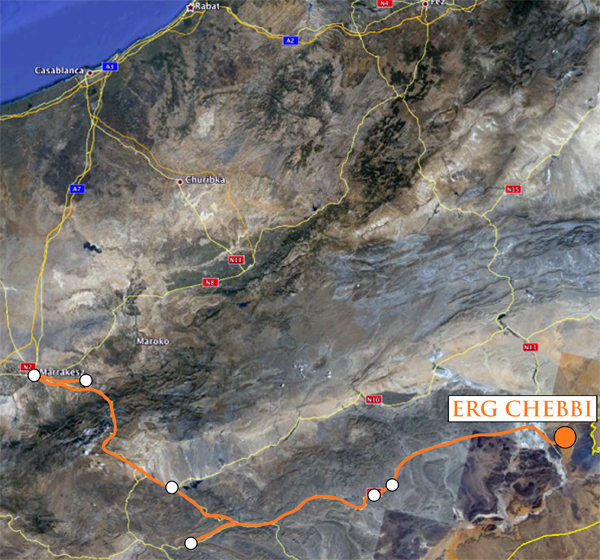 After lunch we drove to Erg Chebbi dunes where we stayed in 2 hotels.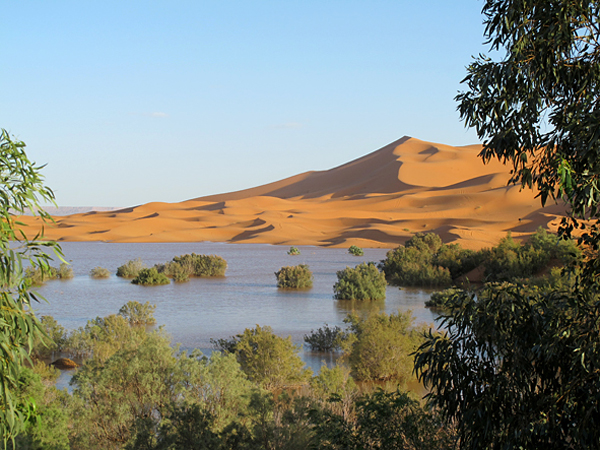 After heavy rains in High Atlas we had a luck to see a rare view - big lake at the edge of dunes. A. Leszczuk photo.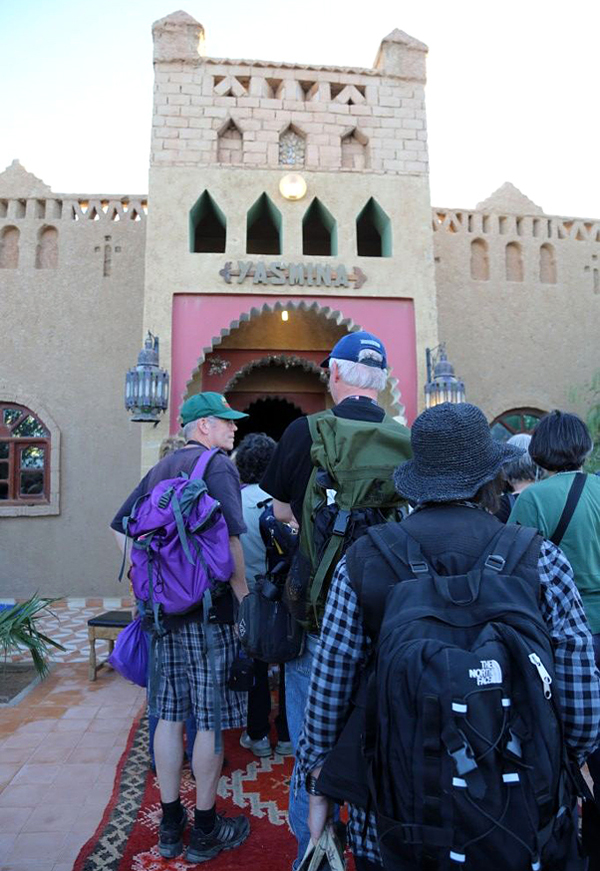 Line waiting to check in the hotel, we tried our best to make it fast but with such a big group sometimes it took some time. J. Ralph photo.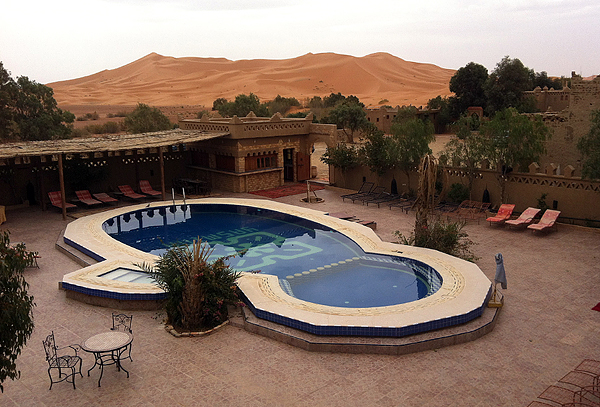 Swimming pool in the Yasmina hotel. T. Praszkier photo.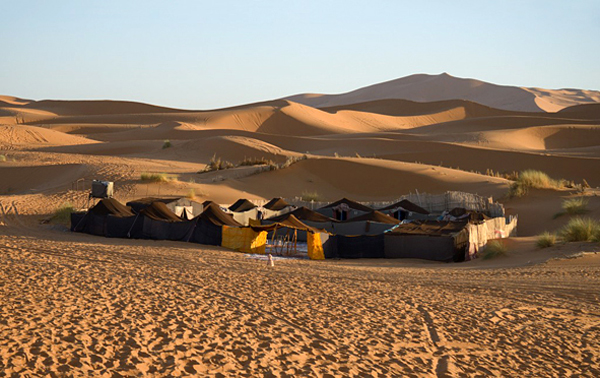 And again some of us slept in Berber tents, this time on the dunes. T. Praszkier photo.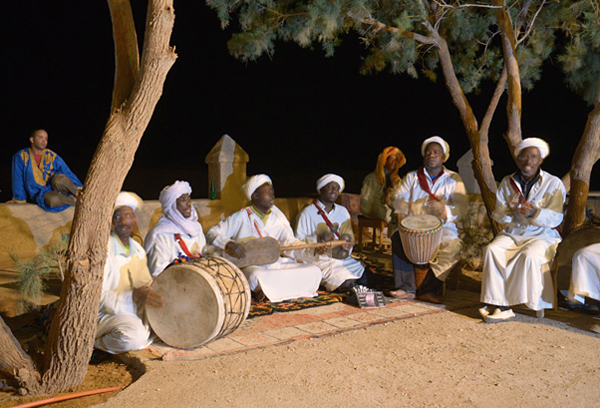 As every evening we had live music and party, this night some of did not sleep too long :-) A. Akhavan photo.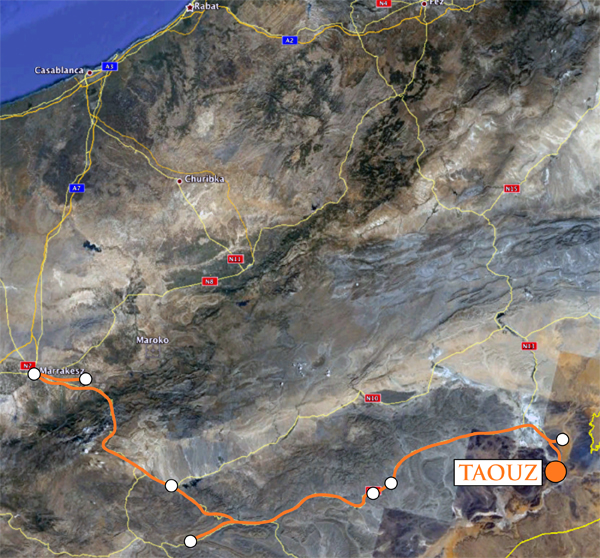 Next day we started visiting small oasis and than Taouz mine.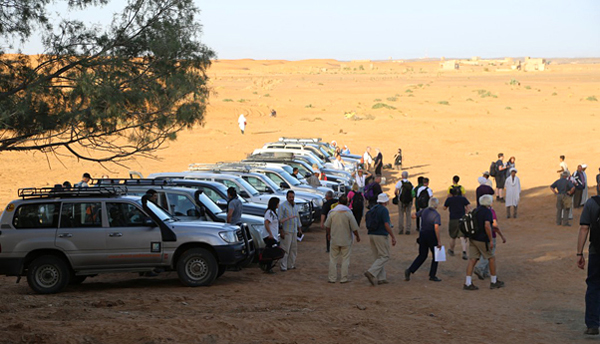 For this trip we had to use 26 4WD cars, quite a caravane. J. Ralph photo.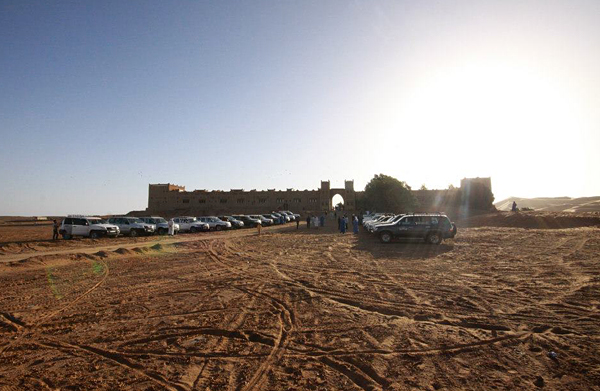 4WD cars are waiting for us. S. Burchmore photo.
Driving through the desert, here we stop for photos. S. Burchmore photo.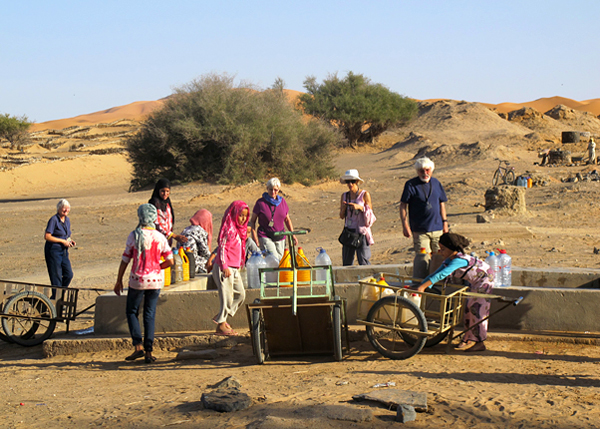 Well on the desert. A. Leszczuk photo.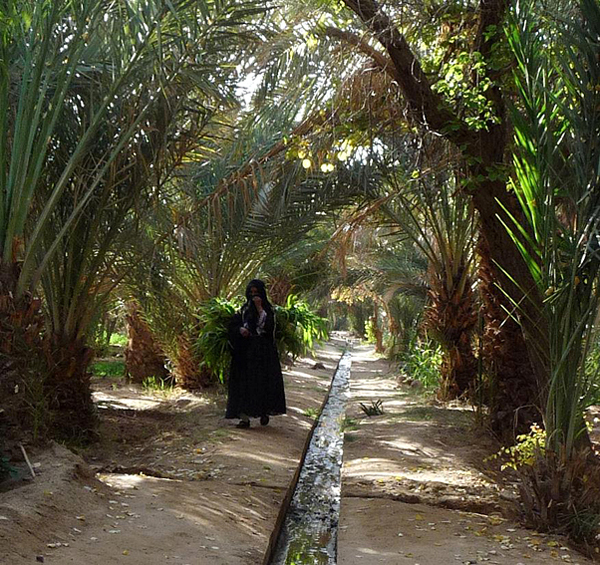 Nearby osasis. C. Broman photo.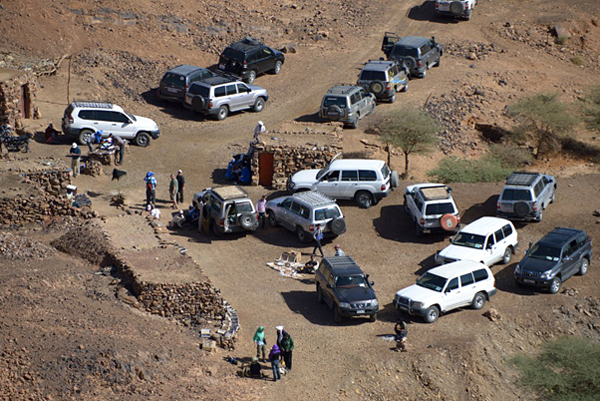 Our cars arrived to the Taouz mine. A. Akhavan photo.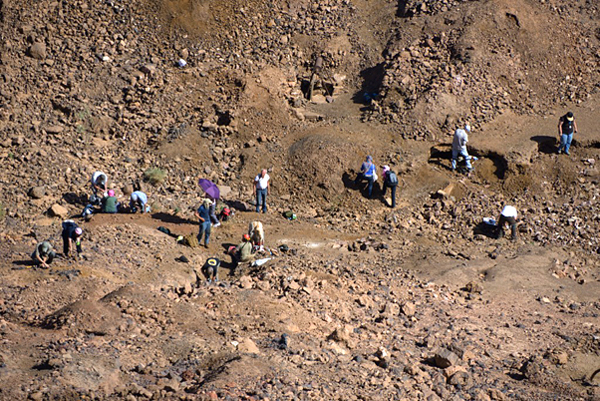 Collecting, collecting! A. Akhavan photo.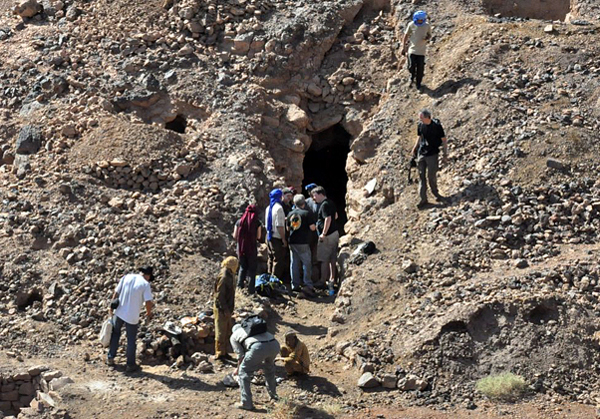 Crowds in the workings, but there was enough space for everyone. D. K. Joyce photo.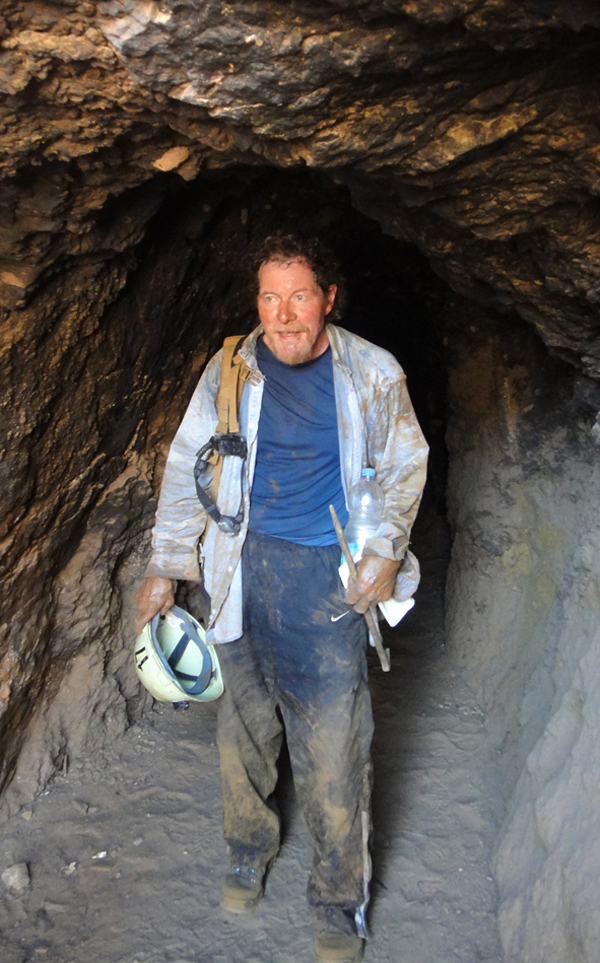 John Lindell dirty after collecting. I. Chau photo.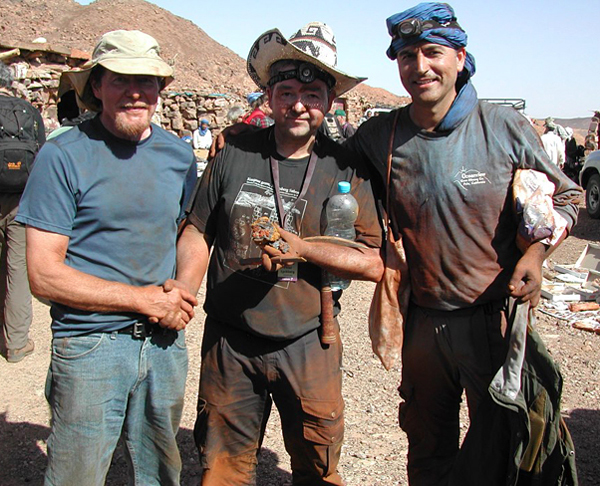 John with other dirty guys - Peter Lyckberg and Mark Mauthner. T. Praszkier photo.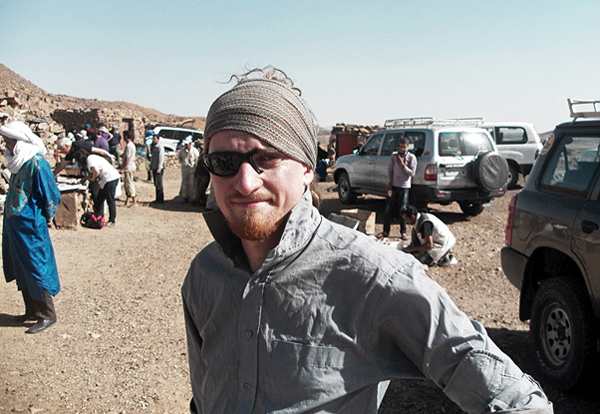 Mike Rumsey lost half of his glasses. L. Schofield photo.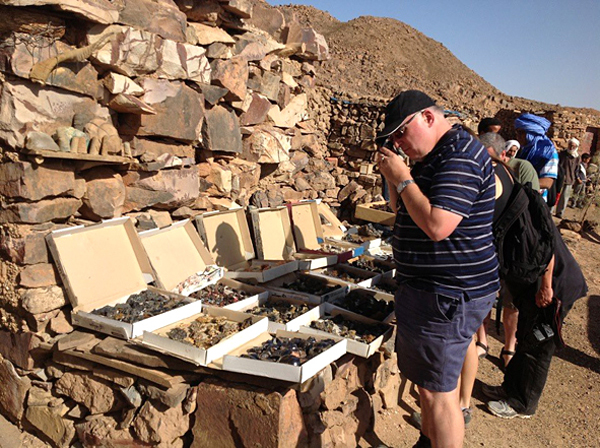 Malcolm Southwood examining some of the vanadinites. D. K. Joyce photo.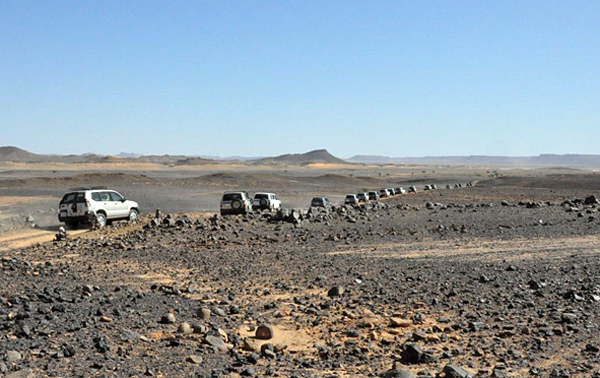 Our caravane left to see archeological engravements in Taouz. D. K. Joyce photo.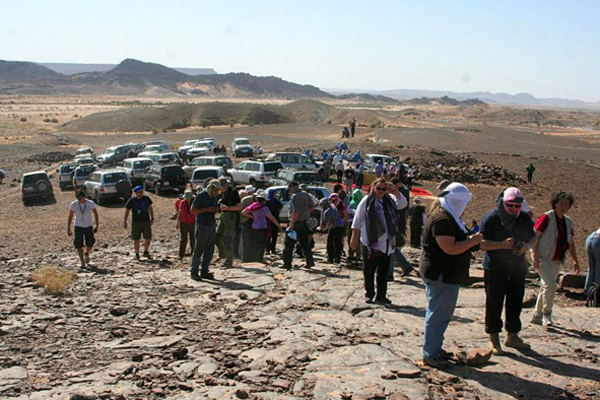 Archeological-luch stop on the desert. G. Brandstetter photo.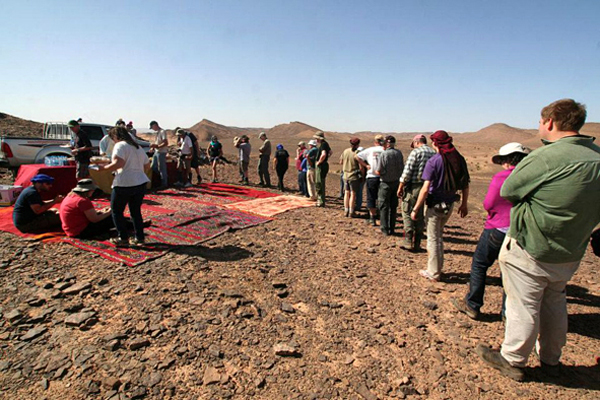 Red carpets and lunch in the midle of the desert. G. Brandstetter photo.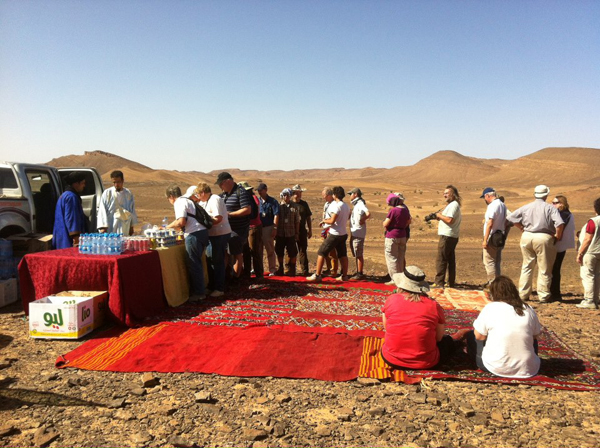 There were sandwiches and cold drinks of course. T. Praszkier photo.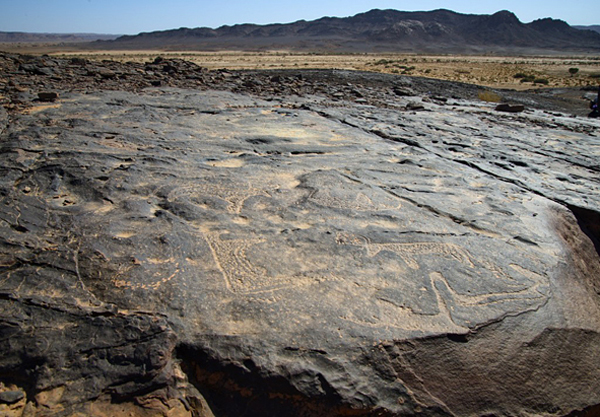 Engravements. A. Akhavan photo.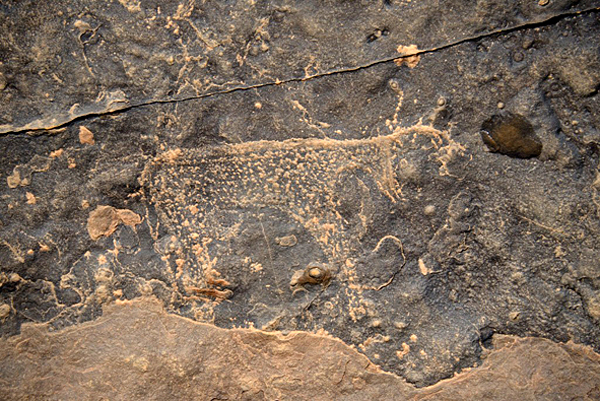 Engravements. A. Akhavan photo.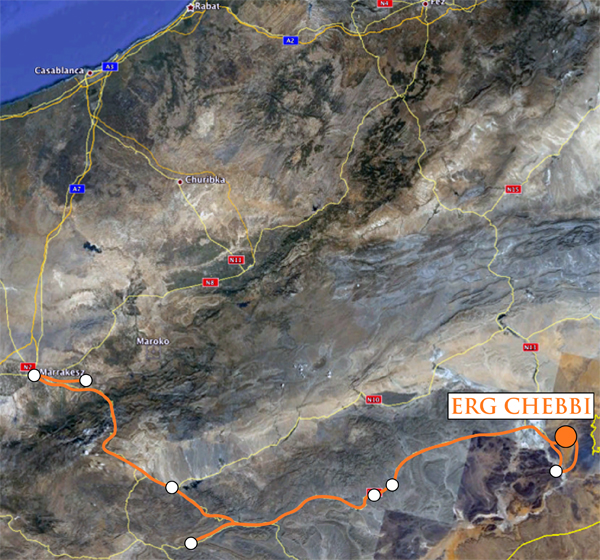 Finally we came back to the hotel driving at the backside of the dunes.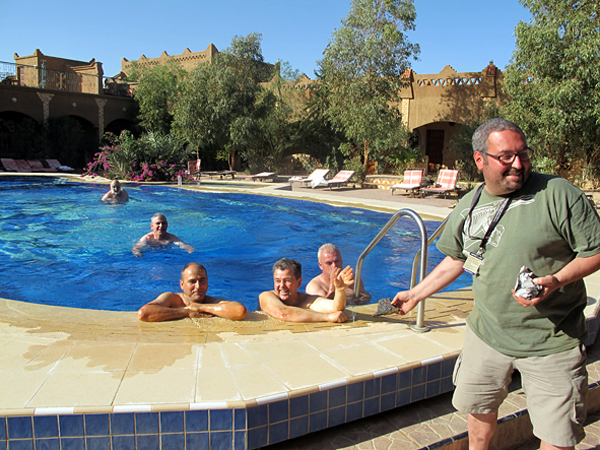 After hot day in the fields some of us took a swim in the pool and examined specimens. A. Leszczuk photo.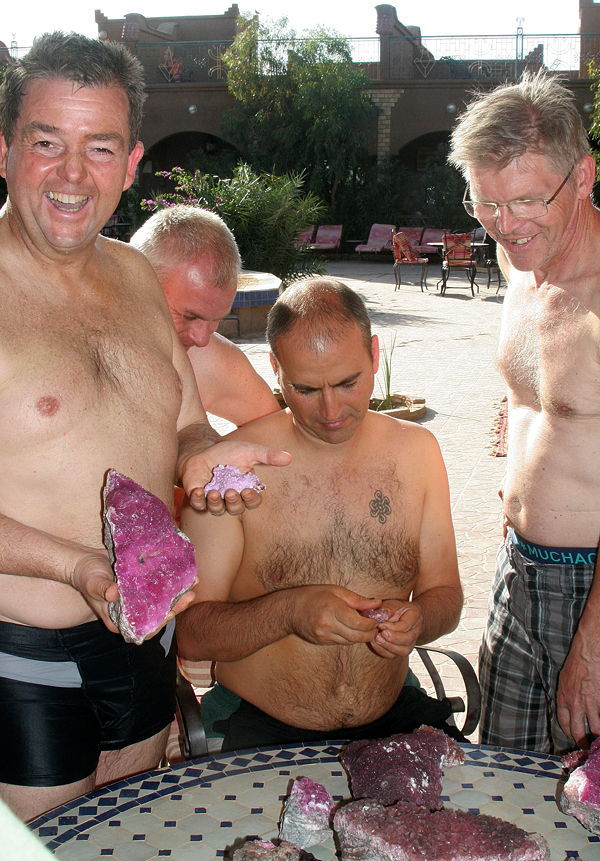 No comment :-) Peter Lyckberg, Thor Sorlie, Mark Mauther and Erik Larsen. G. Brandstetter photo.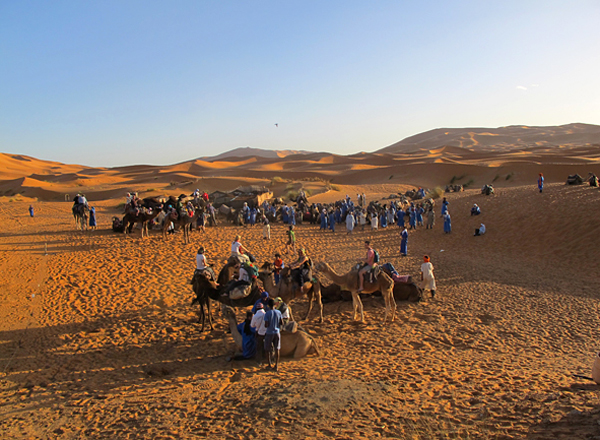 In the afternoon we formed caravane of 110 camels which climbed on the top of the dunes to watch sunset. A. Leszczuk photo.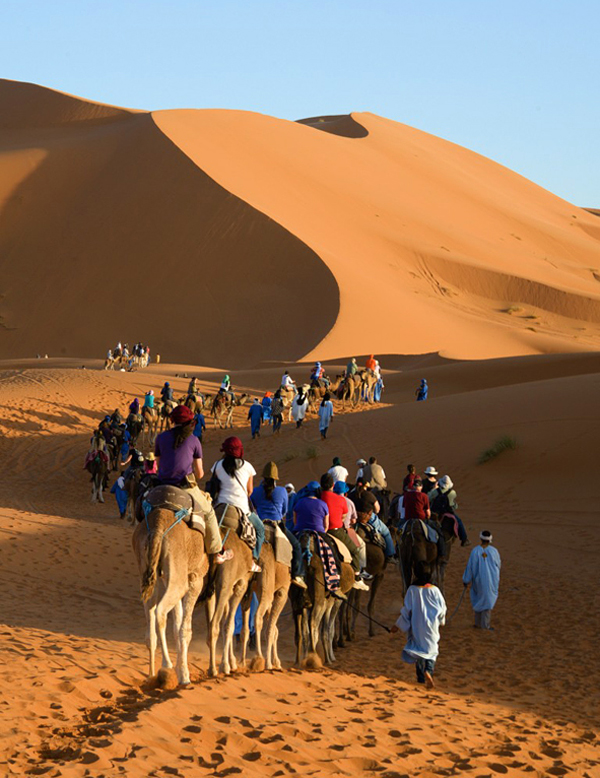 Caravane on its way. A. Akhavan photo.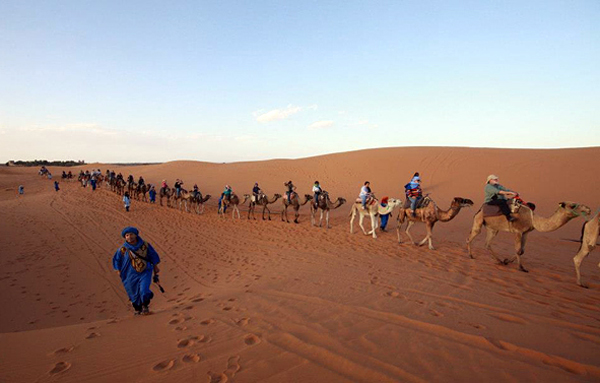 Mindat.org caravane. S. Burchmore photo.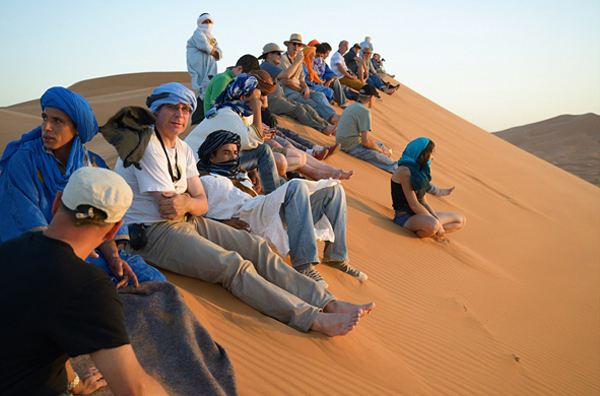 Watching sunset on the top of the dune. A. Akhavan photo.

GO TO: Part II